'Indonesians want more focus on fine details in research on war of decolonisation'
After a lobby lasting many years, the Dutch government has decided to finance an independent study of the war of decolonisation (1945-1950) in the former Dutch East Indies. This is partly due to the work of Professor of Colonial and Post-Colonial History, Gert Oostindie, Director of the KITLV. 'The Indonesian people are relieved.'
You have been lobbying for years for research on decolonisation. In 2012 you advocated on behalf of three research institutes (the KITLV, the NIOD and the NIHM) and in 2015 you published your book Soldaat in Indonesië. What's your response to this decision?
'We are very pleased. It is important that there should now be a large-scale study on the war of independence, the biggest war the Netherlands has ever waged. And, of course, we are happy that our efforts have paid off after all these years. It's been a rather tense week; there were all kinds of rumours that the cabinet would reach a decision, but we had no direct contact. We heard via the press that the study is going to be carried out by the three institutes.'
Were you expecting the decision?
'A few years ago, my impression was that the time wasn't right. The signals from the previous Indonesian government were that it was unnecessary. The Indonesian republic has a kind of founding myth that the Indonesians were of one mind in wanting to expel the Dutch. But there was also a lot of violence and division on their side, which makes it a sensitive issue. The scepticism on the part of the Indonesians was a reason for the Dutch government's reticence. I understand that, but surely Indonesia can't determine the Dutch research agenda.
'There have been a lot of conferences in recent years on the decolonisation period, and politicians are also showing interest. There's been a lot about it in the media too, so we could tell that the tide was starting to turn. Prime Minister Rutte was recently on a state visit to Indonesia and he is sure to have adopted the right tone in his talks with the Indonesian government.'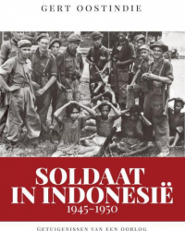 You conclude in your book Soldaat in Indonesië that the Dutch military engaged in structural violence, and historian Remy Limpach draws the same conclusion in his recent dissertation. What still needs to be explored?
'You're right; we do know a lot more now. Limpach based his research on Dutch government archives, and I used ego documents of Dutch soldiers, mainly diaries and memoirs. But there's still a lot we don't really understand, such as the context of the violence. How did politicians, government and the law respond? We want to have a better understanding of the chain of violence. For example, how was a decision at political level communicated to the military chiefs, and how did that result in soldiers committing acts of violence?

'Too little research has been done using Indonesian sources, and that includes violence by Indonesians. There are still a lot of research questions, and we'll be getting students to work on some of them. It's a field in which dozens of our students have gained research experience in recent years, and we'll be continuing along that path. This research will also strengthen the collaboration between the university and KITLV.'
Soldaat in Indonesië has been translated into Indonesian this year. How has it been received there?
'The reactions have been positive, and in some instances very moving. Some Indonesians, whose family members were executed, told me that they felt relieved that the book didn't avoid these kinds of difficult issues. It puts on a better footing for moving forward. Last September, I made a tour of Indonesia, together with Ireen Hogenboom, who helped me with the research. We visited fourteen universities, giving talks to full lecture halls; the students are generally familiar with the traditional portrayal of rough and violent soldiers, but they were very keen to know more. In my book I offer more subtle shades of meaning; I describe some violent atrocities, but I also say that many of the soldiers had doubts about the war. People appreciate that kind of more nuanced approach.'
Will new research also result in new claims for damages by relatives?
'It might, but that's not a matter for us. It's something for the government to decide on. Our role is, to use a cliché, to get to the truth and reveal the whole story, without moralising or getting involved in the finances. That has a lot of value for the relationship between our two countries.'
(LvP)