Book
Dutch Atlantic Connections, 1680-1800: Linking Empires, Bridging Borders
In 'Dutch Atlantic Connections, 1680-1800', Gert Oostindie and Jessica V. Roitman, both of the Royal Netherlands Institute of Southeast Asian and Caribbean Studies (KITLV) and also affiliated with the History Institute of Leiden University, assemble an internationally acclaimed selection of authors, including Henk den Heijer and Karwan Fatah-Black, both working at Leiden's History Institute, and Piet Emmer (emeritus faculty) to engage with recent debates about the role of the Dutch in the Atlantic in the early modern period.
Author

Gert Oostindie

Date

15 July 2014

Links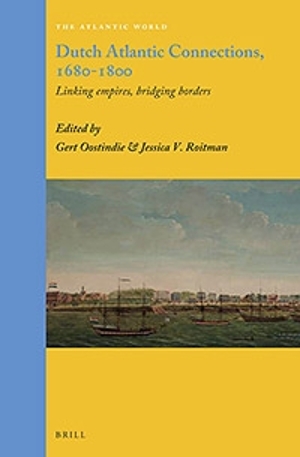 Exceptional role of the Dutch
In recent years, it has increasingly become clear that Dutch activities in this Atlantic world were of far greater significance than historians hitherto assumed. This volume illustrates how Dutch networks functioned in the Atlantic and highlights the pivotal and, indeed, exceptional role of the Dutch in the Atlantic. The chapters present the economic function of the Dutch as middlemen and brokers who helped the Atlantic system operate by embedding themselves in the networks of other empires. This book also demonstrates the cultural impact of the Dutch in the Atlantic and of the Atlantic on the Dutch.
In addition to Oostindie, Roitman, den Heijer, Fatah-Black, and Emmer, other contributors to the volume are: Alison Games, Wim Klooster, Benjamin Schmidt, Kenneth Morgan, Karel Davids, Silvia Marzagalli, Aviva Ben-Ur, Christian Koot, Han Jordaan, Victor Wilson, Ana Crespo Solana.

Thanks to funding from the NWO and KITLV, the book is available via Open Access.
Gert Oostindie and Jessica V. Roitman, Dutch Atlantic Connections, 1680-1800: Linking Empires, Bridging Borders (Leiden: Brill [Atlantic World Series], 2014)