'Peace: you just have to do it'
Who doesn't want peace? Yet we don't always appreciate how fragile it really is. This is why Leiden University was a co-organiser of the Just Peace Festival from 21 to 25 September 2016.
Peace run
During this festival, lectures, debates, exhibitions and performances took place in many locations across The Hague. The most sporty participants were those who joined in the Peace Run. More than 100 students and employees of Leiden University took part in this run for the charity UNICEF. They could be identified by the university logo on their backs. The photos can be seen on the FGGA's Facebook page. The run started at the Peace Palace, from where the runners could choose either a 5- or 10-kilometre route. The musical crowd magnet was DI-RECT in the Kurhaus.
Safety paradox
The Leiden University criminologist Marieke Liem gave an address at the Paard van Troje during the Hague Talks. Six speakers presented their unique view on how to resolve conflicts. Liem spoke about the safety paradox: "From the historical perspective, we're now living at the safest time ever; yet we actually feel more unsafe. How do we comprehend or explain this?" The room was full and the atmosphere relaxed. Several questions were asked. "I can understand why some people in the audience have argued that we can't claim that this world is safe. After all, we're confronted with war, torture and murder. This just shows how strong the paradox between feelings and reality is. We're becoming more sensitive to the violence that does actually happen."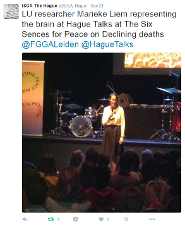 The speakers came from highly diverse backgrounds, which gave the evening a very special dynamic. Liem: "Academics sometimes speak of a multi-disciplinary approach, but they're usually talking about other academic insights, rather than combinations of architecture, visual arts, theatre and music. It's truly inspiring to look at the approach that each specialism takes to thinking about an abstract concept like peace." And: "We academics often talk about peace, we try to analyse it and make recommendations about how to achieve it. This evening's contributions have shown that peace is something you just have to do.



UN Day of Peace

The Just Peace Festival was The Hague's celebration of the international UN Day of Peace. Having established Campus The Hague in this city, Leiden University is helping to consolidate The Hague's reputation as the International City of Peace and Justice.