Vote for a super-talented Leiden scientist
The New Scientist magazine has selected two young Leiden scientists for its Top 25 Young Talents in the Netherlands and Flanders: historian Karwan Fatah-Black and neuropsychologist Mariska Kret. Who will be the winner? You can vote for one of them!
Karwan Fatah-Black (1981) - Social and Economic History

Understanding the consequences
Karwan Fatah-Black is conducting research on Dutch slavery in Suriname. When slavery came to be abolished in 1863, more and more people were given their freedom, but this did not necessarily bring about any improvement in their life circumstances. Fatah-Black explored this phenomenon with a view to understanding the long-term consequences of slavery.
Smuggling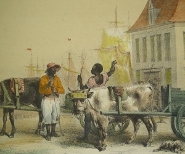 Fatah-Black had previously examined the sizeable smuggling trade between Suriname and North America, that went on for two centuries (1400-1600). He stumbled across this subject more or less by chance. Together with a colleague, he also developed a theoretical instrument to determine the economic impact of the slave trade on the Dutch economy.
Female slaves in the city
Fatah-Black is currently researching how slaves tried to build a better life for themselves and their families by their own efforts. He examined the wills of former slaves, focusing particularly on women who were kept as slaves in cities. Fatah-Black's research is being funded by a Veni subsidy from the Netherlands Organisation for Scientific Research (NWO).
About Karwan Fatah-Black
After graduating in teacher training, Fatah-Black worked as a history teacher while continuing his studies at the University of Amsterdam. He then went on to obtain a PhD in Leiden based on Surinamese trade relations in the eighteenth century.

Together with other researchers, Fatah-Black has published several books on his subject. He is a member of the Social and Economic History department in Leiden and is also involved as an author and editor in a number of magazines and journals. His research has put the issue of slavery firmly on the agenda again, both in the public debate and among academics.
Mariska Kret (1982) - Neuropsychology

The influence of emotions
For relations between 'social animals' such as humans, it is important to be able to recognise other people's emotions. Mariska Kret researches how we express our emotions via non-verbal channels and how these emotions are received. She also looks at the influence of emotions on the development of self-confidence, cooperation and competition. As part of her research, she analyses changes in the body and in the brain during different emotions, both in the lab and in real life. To discover more about emotions, Kret's research also includes animals related to humans, such as chimpanzees and bonobos.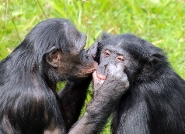 Similarities between psychology and behavioural psychology
While working with chimpanzees in Tokyo, Kret was struck by the analogies between psychology and behavioural psychology. She believes that research with apes can provide insight into the evolution of emotions. Kret recently carried out studies in the Apenheul zoo on emotions in bonobos, introducing the animals to touchscreens. Her remarkable findings made world news.
Improving methodology
Kret also works at the Comparative Psychology and Affective Neurosience (CoPAN) Lab at Leiden University on improving the methodologies used in neuro-research. She is head of the CoPAN lab.
More about Mariska Kret
Mariska Kret studied Psychology in Paris and Leiden and obtained her PhD at the University of Tilburg. After this she carried out postdoctoral research at various universities in Japan, the US and the Netherlands. Her research in Tokyo was the deciding factor in the direction she has taken since then. She has been awarded several different research grants, including a Veni subsidy and a talent grant from NWO.
For Kret it is important that her research is also relevant to society. Via a PhD candidate, she became involved in research on disruptions in the processing of emotions in psychiatric patients and she is also providing an input to the development of care robots. Her book 'The expression of emotions in humans and animals' - aimed at the general public - will be published in 2017 by AtlasContact.