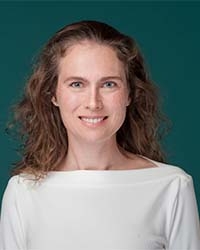 Mariska Kret
Professor Cognitive Psychology
Name

Prof.dr. M.E. Kret

Telephone

E-mail

ORCID iD
Mariska Kret is professor at Cognitive Psychology, Leiden University (The Netherlands).
Short CV
Mariska Kret works as professor at Leiden University, Cognitive Psychology unit and leads the CoPAN lab (Comparative Psychology and Affective Neuroscience) which consists of six PhD students and a postdoc (from six different countries). More information about CoPAN can be found at www.mariskakret.com or on the CoPANLeiden Facebook page.
After obtaining two Psychology Masters in Leiden, Dr. Kret started her PhD trajectory in 2007 in Tilburg during which she studied the perception of body language. In 2011, she moved to Japan to study similar phenomena in chimpanzees. From investigations on expressions in healthy people, her research has expanded to comparative studies in great apes and patients with mental disorders. She is particularly interested in expressions that are genuine, beyond control and automatic. With aid of the prestigious VENI grant from NWO, she studies pupil size, which is influenced by emotions.
Grants
In her VENI project, she investigates emotion processing, pupil-mimicry, their neurophysiological underpinnings and implications for social decision making in humans as well as in great apes.
Her VIDI project is about 'Disconnected and distrusting: Emotional deficits in social anxiety disorder and autism spectrum disorder.'
Supervised PhD candidates
2018 postdoc Yena Kim on project "Cooperation. A comparison between chimpanzees, bonobos and humans. Starts in October (2 years)
2015 - 2017 Visiting postdoc Francois Quesque. With IBRO grant.
2016 - present Principal supervisor of PhD student Evy van Berlo on the project "The evolutionary roots of discrimination". Expected date of defense March 2021 (4.5 years).
2019 - present Principal supervisor of PhD student Julia Folz on the project "Emotional contagion in patients with autism and social anxiety disorder".
2019 - present Principal supervisor of PhD student Fabiola Diana on the project "Emotional mimicry and physiological synhrony in dyadic interaction, a multi-method approach."
2019 - present Principal supervisor of PhD sltudent Tom Roth on the project "Tinder for orangutans: long-distance tasks to measure partner preferences of zoo-housed orangutans (Pongo spp)."
Professor Cognitive Psychology
Faculteit der Sociale Wetenschappen
Instituut Psychologie
Cognitieve Psychologie
Work address
Pieter de la Court
Wassenaarseweg 52
2333 AK Leiden
Room number 2B11a
Contact
Editor in Chef journal 'Behavior'
Chair