Strengthening the child protection system in Kosovo
On Thursday the 3rd of March 2016, Professor Bruning welcomed a delegation from the government of the Republic of Kosovo, within the framework of the Matra-project 'Protecting Children in Kosovo: from Policy to Practice'.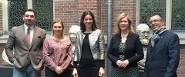 The delegation included the Deputy Minister and the Director of the Legal Office of the Prime Minister and the Director of Good Governance. Defence for Children-ECPAT the Netherlands, together with Dutch experts, and Terre des Hommes Kosovo have supported the Legal Office of the Prime Minister in Kosovo in drafting the new Law on Child Protection. The Department of Child Law of Leiden University has an advisory role in this project. Professor Mariëlle Bruning and Jeanette Satink LL.M. have given advise on the draft version of the Law on Child Protection and shared best practices from the Dutch child protection system. Recommendations were given on the implementation of international and European standards on children's rights in law and policy in Kosovo.