Roundtable "The Amicus Curiae in International Criminal Justice"
On Monday, 18 January 2016 the Grotius Centre for International Legal Studies hosted a roundtable on the practice, process, strategy and impact of the amicus curiae in international criminal trials.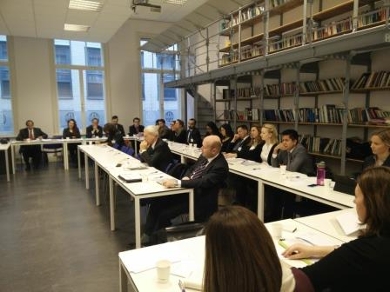 The roundtable was initiated in the context of the project "Evaluating Civil Society Participation before International Criminal Tribunals: the Amicus Curiae and the Rights of the Defence", supported by the Australian Research Council's Discovery Projects funding scheme. Sarah Williams, Hannah Woolaver and Emma Palmer from the University of New South Wales and Professor Carsten Stahn from the Grotius Centre chaired the three panels of the event. The list of panelists included Judge David Re (STL), Judge Howard Morrison (ICC), Gőran Sluiter (University of Amsterdam), Rupert Skilbeck (The Open Society Justice Initiative), Steven Powels (Doughty Street Chambers), Gaëlle Carayon (Redress), Manuel Ventura (STL), Colleen Rohan (ADC-ICTY), Michael Karnavas (ECCC), Helen Brady (ICC) and Aurélie Roche-Mair (IBA). The keynote address was delivered by Professor William Schabas from the Grotius Centre.