Symposium Crisis Management in the Banking Sector
On Friday 6 November, a symposium took place on the occasion of the publication of the 'Research Handbook on Crisis Management in the Banking Sector', edited by professor Matthias Haentjens and professor Bob Wessels.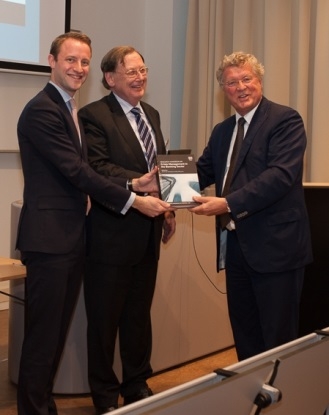 Due to the large interest shown by both academics and practitioners in this symposium, the event even had to be moved to a bigger room. During the afternoon, a number of contributors to this handbook discussed different perspectives of bank insolvency law. Professor Kong (China University of Political Science and Law) talked about the recent developments of the Chinese approach to bank insolvency law. Thereafter, George Zavvos (Legal Service of the European Commission) spoke about the design and operation of the Single Resolution Mechanism, one of the main pillars of the European Union's banking union. He also addressed the complications that had arisen around the choice for a European legal basis for this pillar. Professor Campbell (University of Leeds) discussed large scale bank insolvencies and described how bank insolvency law within the United Kingdom has developed since the financial crisis.

Professor Matthias Haentjens, editor of the handbook, concluded by making some general remarks on the basis of the book as a whole. He signalled a shift from individual justice to public policy considerations. Furthermore, he pointed out that government authorities powers have increased considerably and that legal protection has become precarious. Then, an animated forum discussion ensued. The afternoon ended with the presentation of the first copy of the handbook to Nout Wellink, former president of the Dutch Central Bank.

'Research Handbook on Crisis Management in the Banking Sector' is already regarded as the definitive work on banking sector crisis management, especially in the EU. More than thirty prominent academics, practitioners and regulators give a comprehensive overview of the rules around the insolvency of banks. For more information (including its table of contents and possibility to order): http://www.e-elgar.com/shop/research-handbook-on-crisis-management-in-the-banking-sector.