2010 Pilot excavation in Iraqi Kurdistan
The Netherlands organisation for Scientific Research NWO has granted a subsidy to prof. dr Wilfred H. van Soldt (Humanities, LIAS) and dr Diederik J.W. Meijer (Archaeology, Near East) to conduct a pilot excavation in Iraqi Kurdistan.
During an archaeological surface survey in 2008 prof. dr Wilfred H. van Soldt and dr Diederik J.W. Meijer found a site which yielded a cuneiform inscription identifying it as the town of Idu, dated to the 12th century BC. The site is situated on the Little Zab, a tributary of the Tigris, close to the present Iraqi-Persian border.
New archaeological work in Iraq
On April 25 2010 a team from Leiden and Leipzig universities set out for Erbil, Iraqi Kurdistan, to begin archaeological investigations of the site of Satu Qala. After almost two weeks of preparations both in Erbil and in Taqtaq (the closest larger village) and Satu Qala, the team found quarters in a very comfortable house which was graciously put at our disposal by the Mudir Nahiye. A contract detailing the rights and duties of all parties in the undertaking was signed in Erbil on May 17.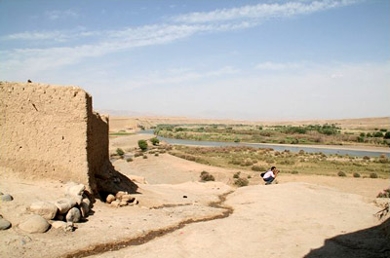 Actual excavations began on Thursday May 6 with 9 workers, which number increased to fourteen over the next three days. The villagers of Satu Qala insisted on a rotation system whereby as many as possible from different families get a chance to earn money. They work hard and well, albeit that all are untrained in archaeological work and need supervision. The third participant in the Satu Qala project is Salaheddin University in Erbil, and they sent a number of students and assistants every day to help us in the excavations as well as to learn how we excavated.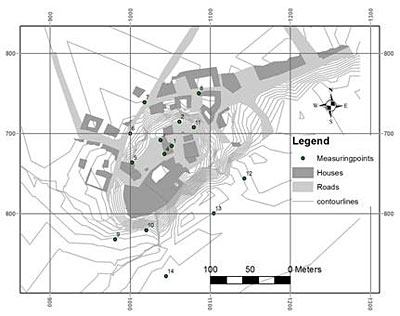 The habitation on the top of the tell presently prevents digging in some places that seem interesting archaeologically, and modern water mains and other disturbances somewhat impair the archaeological contexts. As a consequence, the first week of excavation was spent almost exclusively in clearing away modern disturbed soil. In this, old remains such as stamped mud brick fragments and glazed tiles were found, all from the palace of a king Abbizeri and that of his son Ba'ilanu as is clear from their cuneiform inscriptions; these fragments had apparently been dug up and thrown away again by sub-recent construction work on the site. Especially in square 1010/690 a number of such fragments came to light, suggesting he presence of their original source close by.
In this square as well as in neighboring 1010/680 a number of rather flimsy burials were encountered oriented in different directions, but all in flexed position. Hardly any grave gifts were found, suggesting that these burials did not belong to the Neo-Assyrian or the Middle Assyrian periods but date to later times. One lay on its back with arms crossed over the chest.