Is it possible to ban Quran burning?
Authorities in Denmark and Sweden are examining whether it is possible to ban Quran burning following recent incidents. These have caused tension in many Islamic countries as well as in the countries where they occurred.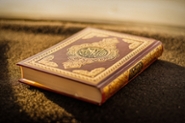 Can it be banned in the Netherlands?
Gert Jan Geertjes, Assistant Professor in Constitutional and Administrative Law in Leiden, says that banning such acts in advance cannot be done. 'The Dutch Constitution prohibits censorship, but it is possible to take action later. Freedom of expression is already limited by the legislature in the Dutch Criminal Code under various offences concerning freedom of expression. Within that framework, it is possible to ban insults to a group on the basis of their religion – which certainly includes Muslims – or inciting hatred as a result of a specific utterance, or demonstrations that might lead to disorder.'
'The Dutch Criminal Code prohibits censorship, but it is possible to take action later.'
'It is possible to include a specific provision about the Quran in the Criminal Code [which would ban certain expressions regarding the Quran, such as tearing or burning it, ed.]. This has been done before by outgoing Minister of Justice and Security Yesilgöz in relation to making denial of the Holocaust a criminal offence. That proposal is now before the Dutch Council of State and will very likely be sent to the House of Representatives in the autumn', Geertjes explains on Dutch NOS news.
The NOS reports that there is no similar proposal with regard to the Quran, and that according to the Dutch Public Prosecution Service, Quran burning in itself is not a criminal offence.

Watch the full NOS broadcast (in Dutch).
Photo by Malik Shibly on Unsplash