Netherlands Institute Morocco (NIMAR)
Minor Culture and Society in Morocco
During the Autumn semester (September-December), the Netherlands Institute in Morocco (NIMAR) offers a minor that focuses on the study of Morocco from a social sciences and humanities perspective.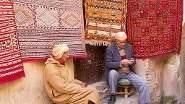 The programme is designed for all students who are interested in gaining in-depth understanding of Moroccan society and acquiring skills in doing ethnographic research in a Middle Eastern society. Besides that, students get the change to develop their language skills in either Moroccan Arabic or French. The semester promotes a real immersion in Moroccan society for students with an interest in becoming experts on contemporary Middle Eastern societies.
Programme
Lectures by Moroccan and foreign academics in disciplines such as sociology, anthropology, history, and political science. Topics include urbanisation, gender, Islam, migration and social movements; Including series of on-site visits. Excursions to various sites of cultural interest and social organisations in the surroundings of Rabat-Casablanca, and a five-day fieldwork trip to a rural area.
Familiarises students with different research methods such as (participant) observation, interviews, and working with focus groups. Weekly practical assignments for observations and interviews serve as preparations for the students' own research projects; Including " Research Design", which helps students to formulate step by step their own research projects.
Moroccan Arabic or French classes, including daily conversations and grammar.
An independent field research project during the last part of the term. Under supervision of a lecturer students do research and report on their research in a research paper. They may do this individually, or in small groups of two or three students.
After completion of the programme students will have acquired a basic working knowledge of Moroccan Arabic and of social studies of Morocco, learned elementary ethnographic methods of doing fieldwork, put this knowledge into practice by having carried out their own field research and having analysed and presented their data, both orally and in a written form. Students are actively encouraged to travel extensively to the various regions of Morocco during their stay in Rabat.
The courses are taught by NIMAR faculty and by guest lecturers from Moroccan institutions.
About NIMAR
The NIMAR is the Dutch expertise centre for Moroccan Studies. From 2016 NIMAR is an integral part of the Faculty of Humanities of Leiden University, complying with the high standards for education as set by the Dutch Ministry of Education. NIMAR offers courses, organises lectures, facilitates research, and actively contributes to the knowledge of Moroccan languages, cultures and society in the Netherlands. NIMAR's main aim is to offer students from the Netherlands opportunities to study and do research in Morocco and in the wider North African and Middle Eastern area. It is also actively involved in collecting books, electronic and audiovisual materials form the Arab world for the libraries of Leiden University.
About Rabat
Rabat is the capital of the Kingdom of Morocco. It is a well-organised city on the Atlantic coast, which offers a pleasant and safe environment to acquaint students with living in North Africa and the Middle East. Its has good cultural and scholarly facilities, housing major teaching and research institutions, libraries, museums, bookstores etc. Rabat has its own airport and offers good connections to all other parts of Morocco. It is about one hour by train from Casablanca, which has the biggest international airport in Morocco.
The NIMAR offers students the option of a home stay with a family in Rabat. Alternatively students may prefer to rent their own apartment, in which the NIMAR can also assist. Cultural activities will be organised alongside the course curriculum, providing additional opportunities for students to enrich their experience and understanding of Moroccan society.
Practical information
Duration: September 2019 – December 2019 (Handing in of research paper in January 2020)
Credits: 30 EC
Language of instruction: English
Admission
All BA students in their 2nd or 3rd year with an interest in humanities or the social sciences, specifically in Morocco. Students of various backgrounds are most welcome, such as anthropology, area studies, geography, history, international studies, law, Middle Eastern Studies, political science, sociology, etc.
Registration via uSis, see Minors, from May 1st 2019
Contact