Archaeological Science (MSc)
Scientific methodology is an important approach in modern archaeology and it is at the heart of archaeological science. Hypotheses, data, theory, experiments, observations, as well as presentation and interpretation, are all key to our understanding of our past.
Specialisation of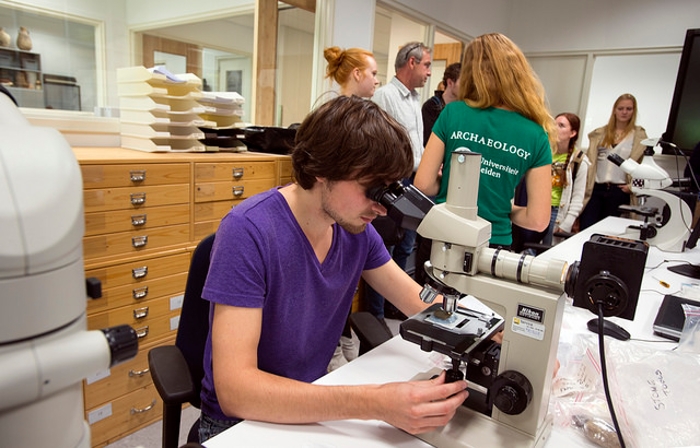 Archaeological Science is an MSc specialisation that delves into the specifics of these methods and techniques. Working with cutting-edge techniques and facilities, you will be participating in projects all over the world, from the Caribbean to Russia. The combination of hands-on field experience and laboratory work offers a challenging and rewarding research environment.
Master of Arts or Master of Science
If you specialise in Archaeological Science you'll receive a Master of Science degree in Archaeology. For the other specialisations (World Archaeology, Heritage and Society) you'll receive a Master of Arts degree in Archaeology.
Modules for Archaeological Science
Archaeobotany and archaeozoology focuses on a variety of palaeo-zoological and palaeo-botanical topics (including aDNA and isotopes), ranging in age from the Palaeolithic to historical periods. The programme revolves around palaeo-environmental or palaeo-economical questions as well as evolutionary aspects of faunal or floral communities, and the evolution of species.
This focus area will give you a fascinating and detailed insight into the methods used to study human bones and teeth in physical anthropology and archaeology. Students will learn current osteoarchaeological methods, discuss applicable theoretical orientations, and participate in hands-on research. A working knowledge of human skeletal anatomy (i.e., a bachelors-level course in human osteology) is a required prerequisite. Building on this pre-existing understanding of the human skeletal system, students will engage in courses that focus on advanced osteoarchaeology and paleopathology and apply what they have learned in the classroom to a skeletal-based internship and independent data collection. The timely completion of a high-quality thesis of (20,000-30,000 words MSc; 30,000+ words RMSc) will be the direct product of these efforts.
Topics discussed in this track include: stable isotope analysis, biomechanical analyses, paleodemography, metric and non-metric variation, estimation of sex and age, taphonomic changes, infectious disease, non-specific stress indicators, and the osteological paradox. Students are encouraged to formulate a research question that is novel, reproducible, and of interest to the wider osteoarchaeological community. The Faculty of Archaeology houses several skeletal collections, which may be available for student research. In addition to a well-grounded education in archaeology, students that complete this track will have an advanced knowledge of the human body, experience conducting research, and honed scientific writing expertise. These skills will prepare students to continue their osteoarchaeological research efforts or pursue other career opportunities.
Please note: if you want to start in February, and you aim to graduate in a year, your thesis subject options are limited.
Material Studies explores how we analyse the cultural biographies of all sorts of material objects, from flint axes to pottery and from houses to monument structures. The aim is to reconstruct technological processes by examining the interconnectivity of different chaînes opératoires. This gives us a better understanding of the varied relationships between people and things.
The module deals with current approaches in material culture theory, analytical methods and the techniques used to study artefacts and in experimental archaeology. Experiments are key to both our research and teaching. These are conducted in an experimental laboratory, as well as in an experimental outdoor location called Huize Horsterwold. The latter is a Stone Age hamlet we have constructed these past few years and which we use as an experimental station.
In June 2016 we started constructing another experimental Stone Age house, in Vlaardingen, near Rotterdam. Here, we specialise in the provenance studies of various raw materials, wear trace, and residue analysis, using primarily microscopic and chemical analytical techniques. You will be taught these techniques in laboratory tutorials.
The Material Studies module also takes in several architectural research projects, which are currently being conducted at the Faculty. This includes the study of monumental architecture, which is approached as a topic in itself and placed in a larger landscape context. As you'll certainly come to appreciate, Material Studies combines physical and theoretical approaches to landscape and object-oriented studies and contexts.
Digital Archaeology, as its name suggests, covers the area of digital data in archaeological research, and the computational methods and tools required to collate, analyse and manage it.
The use of computers in archaeology dates back to the 1960s, and today archaeology is one of the most digitised of the historical and social sciences. Computer-based tools, such as spatial analysis, 3D modelling, simulation and image analysis, have opened up new avenues of archaeological research and have significantly broadened our understanding of our past. Our expertise in surveying, remote sensing, spatial analysis and data management covers the whole workflow of archaeological research.
In this module you will learn how to collect digital data in the field, using state-of-the-art surveying equipment. You'll also be shown how to process, visualise, analyse, interpret, manage and present digital data in our computer laboratory. Thanks to our network of national and international partners, you'll have plenty of opportunities to get some hands-on training.
See the programme structure for more information on how to integrate these modules into your master's programme.