Proefschrift
A European Ministry of Finance?
Op 21 oktober 2021 verdedigde Frederik Behre het proefschrift 'A European Ministry of Finance?'. Het promotieonderzoek is begeleid door promotor prof.dr. S.C.G. Van den Bogaert.
Auteur

Frederik Behre

Datum

21 oktober 2021

Links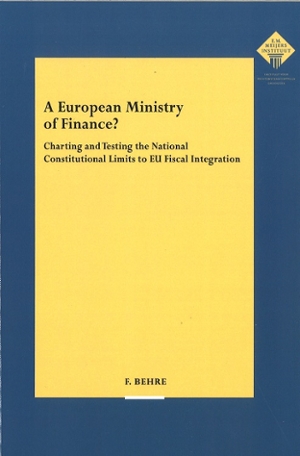 The Eurocrisis forcefully exposed the Euro's structural deficiencies, which are back in the limelight due to COVID-19. It is widely acknowledged that EU fiscal integration is required to adequately remedy the remaining deficiencies. However, national constitutional authorities limit the scope for EU fiscal integration based on national sovereignty, democracy and parliamentary prerogatives. The result is a fundamental dilemma: effective EU fiscal integration appears necessary to stabilize the Euro and legally impossible due to national constitutional limits.Confronted with this dilemma, this thesis determines the national constitutional space available for EU fiscal integration. Part I includes a comparative assessment of national constitutional limits to determine how constitutional systems react or could react to EU fiscal integration. Part II tests current EMU reform proposals against the charted national constitutional to evaluate their attainability.
Overall, the thesis demonstrates that even rigid national constitutional limits can accommodate EU fiscal integration. To rebut the outlined dilemma the thesis proposes: First, to comprehensively include EU fiscal integration benefits into the national constitutional appraisal thereby replacing the prevailing competence-centric interpretation of national sovereignty and democracy. And second, to design EU fiscal integration in light of national constitutional concerns. Both propositions facilitate the attainment of EU fiscal integration by equally respecting national constitutional concerns.