Featured Review | Hybrid Diplomacy with NGOs: The Italian Formula
Raffaele Marchetti (2021). Hybrid Diplomacy with NGOs: The Italian Formula. Cham: Palgrave Macmillan. ISBN 978-3-030-86869-7, 135 pp., €46.00 (eBook).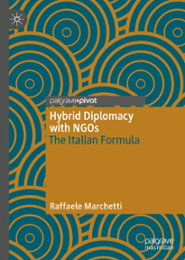 The global approach to diplomacy has been largely viewed from a classical perspective, where states use their power based on military, material, and political capacity to influence international affairs. This has led to the rise of world groupings among countries or leaders that possess such power to influence the direction the world should take regarding global issues. For instance, the rise of China, the USA, and the EU is based on the significant economic, military, and political influence of great powers resorting to classical diplomacy. This traditional perspective on diplomacy emphasizes the sovereignty of states and their territorial and political independence.
However, this approach has been supplemented by modern alternatives in recent years. Scholars have started studying a hybrid diplomacy approach involving both state and non-state actors. Raffaele Marchetti is one such scholar who recently demonstrated in his book Hybrid Diplomacy with NGOs: The Italian Formula that hybrid diplomacy has become very effective in sustaining middle powers' influence in international affairs. The 'Italian formula' of hybrid diplomacy positions Italy at the centerpiece of international politics through promotion of 'Italianness' in various universities internationally, Italian sports partnerships, as well as positioning Rome as a hub for transnational Christian networks. Consequently, the book finds that the Italian language has become the fourth most widely studied language internationally.
Marchetti argues that the integration of governmental and non-governmental or civil society organizations can yield the synergy that successfully promotes the international ambition of a country. In this regard, hybrid diplomacy advocates for the pluralization of international affairs where all actors contribute, through bottom-up or top-down processes, toward building international diplomacy.
Further, Marchetti contends that a classical understanding of power is no longer appropriate to understand how states influence international affairs. As such, an average state can exert international influence using hybrid diplomacy. In this study, the author examines the synergy created by the actions of the Italian government through its Ministry of Foreign Affairs and International Cooperation and the non-governmental actions of the Italian civil society organizations operating internationally. He claims that the collaboration between those actors has positioned Italy in a leading role at the international level, inspiring many states to combine public-private partnership strategies and tactics to enhance their international status.
To validate his claims, Marchetti analyzes eight sample cases showing the effect of interactions between Italian government institutions and civil society organizations to create the synergy that has assisted the country in generating a significant influence on international politics. The eight cases are Religious freedom (1978–2012), Confiscation of criminal goods (1997–2014), Abolition of the death penalty (1987–2007), Ban on Female Genital Mutilations (2000–2012), Peace in Mozambique (1983–1992), International Criminal Court (1994–1998), Debt cancellation (1997–2000) and Humanitarian corridors (2015–ongoing). Marchetti employs qualitative and mixed research methods to extract data from secondary sources and primary sources. Over several years, he interviewed four categories of actors involved in campaigns: politicians, activists, public officials, and experts, using semi-structured questions to determine the effectiveness of the Italian hybrid approach to diplomacy over time.
Whereas many scholars have studied the different dimensions of diplomacy, such as cultural diplomacy, public diplomacy, digital diplomacy, and museum diplomacy, hybrid diplomacy tends to differ from any of these previous dimensions by focusing on state and non-state actors. The idea of hybrid diplomacy appreciates a holistic approach to diplomacy by integrating all potential actors, such as the government, companies, civil society organizations, local authorities, and sports organizations, viewing them as agents that can advance the international influence of a country. Other dimensions of diplomacy concentrate on state actions to influence foreign audiences, while hybrid considers both state and non-state actors. This makes Marchetti's contribution a valuable addition to discussions around international politics, which sees NGOs as diplomatic actors able to create a synergy in promoting the international interests of a country.
Based on a rich analysis of the literature, the book argues that foreign policy analysts have underestimated the power of non-governmental actors to impact Italian foreign policy. The author claims that civil society scholars have excluded civil society and social movements from the political space, making them seem less effective in their contributions to global affairs. As a solution to this issue, Marchetti proposes that civil society organizations and governments need each other in international diplomacy. While civil society organizations may require institutional support from governments to secure funding, gain entry to international fora, or just establish international credibility, the government needs civil society organizations to gain public support, local capabilities, legitimacy, and soft paths for their foreign program. The author argues that the campaigns of Italian civil society movements studied in this book have made Italy a critical actor in finding solutions to issues of international interest.
In conclusion, the book Hybrid Diplomacy with NGOs: The Italian Formula by Raffaele Marchetti provides a modern take on how countries can approach diplomacy from a pluralist perspective. He demonstrates the changing role of civil societies in international affairs, diplomacy, and foreign policy, thus, inviting governments to reconsider their approaches to solving issues affecting the contemporary world at international levels. The book's main value lies in the multiple real-life case studies where a hybrid diplomacy approach has been used and succeeded in tackling issues of international interest, helping readers to think practically about these dynamics in international polictics.