Blog Post | Diplomacy's Response to the Coronavirus
The coronavirus outbreak has demonstrated the strengths and weaknesses of modern diplomacy. In this two-part series of blog posts, I will attempt to analyze how diplomats grappled with the coronavirus pandemic and how international diplomacy can best prepare to meet similar challenges in the future. This blog post focuses on the practice of diplomacy during the COVID-19 outbreak.
Diplomatic Assistance to Compatriots Abroad
Diplomats played an important role during the coronavirus pandemic in helping fellow citizens abroad. As the coronavirus migrated from country to country, thousands of people found themselves stranded in foreign countries and airports, often without the means to return home. Embassies and consulates provided citizens with information, funds and documentation while also arranging charter flights to repatriate citizens. During the pandemic, the bureaucratic requirements for proper documents from citizens wishing to return home were significantly reduced. Equally important, diplomats contacted foreign governments, non-governmental organizations and businesspersons to secure financial support or much needed medical aid. Diplomats were also instrumental in exchanging information between governments on border closures, quarantine guidelines, and new entry policies. MFAs conducted press briefings, and together with their missions abroad extensively used websites, social media and chatbots to communicate with citizens wishing to return home.
In many countries, diplomats have been granted a special status that simplified procedures in leaving and entering countries affected by COVID-19. In some places, diplomats entering a foreign country were allowed to settle for two-weeks' self-isolation instead of strict quarantine. Diplomatic missions were among those who obtained permission to use official cars despite the limited traffic. All these conditions were created to help diplomats carry out their tasks. However, diplomats' involvement in crisis management during the coronavirus outbreak received little media attention as public interest was more focused on those who played an even more prominent role in the fight the pandemic – doctors, local and national leaders, and law enforcement officers. But on social media networks, citizens often expressed their gratitude to those diplomats who helped them return home.
Digital Diplomacy Comes to the Fore
During the pandemic, different forms of digital diplomacy were employed by diplomats. Prior to the coronavirus outbreak, video-conferences were rarely used in communication between foreign diplomats and representatives of local authorities, businesses and the public. Yet during the pandemic, online video-conferences became an important part of the everyday work of foreign ministries, diplomatic missions and international organizations. Video-conferences were not only used to conduct international summits, ministerial meetings and G20 sessions, but diplomats also employed these technologies to converse with foreign populations. Some embassies organized digital cultural events such as online exhibitions and concerts live-streamed from one country to another. Such was the case with French embassies that offered foreign citizens virtual tours of the Louvre museum. Even the presentation of Ambassador's credentials in video-conference format took place.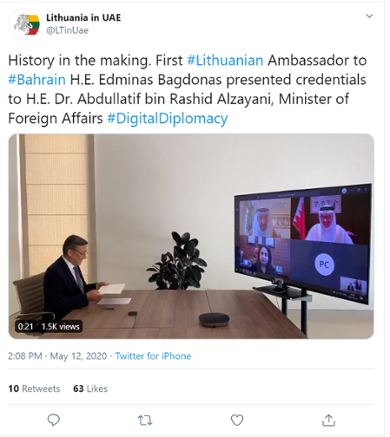 Health and Diplomacy
Public health was one of the most important areas of diplomatic activity as MFAs worked closely with national and international health agencies. Mission abroad were tasked with monitoring, analyzing and reporting on the COVID-19 outbreak, the development of vaccines and shortages of medicine and medical equipment abroad. Similarly, diplomats helped facilitate ties between national health ministries and foreign academic communities. Some countries have added the position of a health attaché to their embassies.

Although different states faced their own health challenges, the sharp decline in global economic activity necessitated that diplomats also focus on commercial issues, specifically increasing export. The promotion of a country's economic interests has always occupied an important place in diplomatic work. But now these issues have acquired special relevance as diplomats are also tasked with minimizing the coronavirus' adverse economic impact on their nation. Some countries have fared better than others as their exports are tied not to physical products but to digital ones. Two Israeli high-tech companies, for instance, were sold mid-Corona for more than a Billion dollars.
Image Management During the Pandemic
Since the outbreak of the coronavirus, some countries have focused on foreign aid activities be it through the provision of medical equipment or doctors. China's efforts in this respect were substantial and received praise from different countries. Chinese diplomats clearly sought to change the country's coronavirus narrative from being the place where the pandemic has started to the country which had successfully beaten COVID-19. China also depicted itself as country looking to aid the global community. But there were also accusations that China withheld information about the coronavirus and did not make sufficient efforts to contain it at the beginning of its outbreak. These accusations were carried far and wide on American social media channels, leading to a backlash from China. The coronavirus has become one of the most acute issues in the international informational confrontation, and diplomats have been involved in this process.
The Weak Spot: Multilateralism
The coronavirus pandemic also showed some of the shortcomings of diplomacy, namely the multilateral system. The United Nation and its Security Council (UNSC) did not play a notable role in managing the global pandemic. The European Union and its institutions received much criticism for not coordinating European efforts to tackle the pandemic, and for not providing timely assistance to member states in need. The World Health Organization received both praise and condemnation for its behavior during the crisis.
As a whole, the international system and its major multilateral institutions were not prepared to deal with such a global crisis, and the existing elements of global governance, including international organizations, couldn't effectively coordinate their efforts and resources for managing the pandemic. The relative paralysis of the multilateral system had additional implications including the lack of ability to monitor human rights violations and aid refugees. The pandemic negatively affected international trust in multilateral institutions. This lack of trust may long outlive the current pandemic and hamper the ability of this system to facilitate global governance.
The system of multilateral diplomacy turned out to be the weakest link in the diplomatic response to the pandemic. What can we expect from diplomacy in the post-coronavirus time, and how it can be prepared for future global crises? This will be discussed in the next blog post.
Alisher Faizullaev, D.Sc., Ph.D., is an Adjunct Professor at Webster University in Tashkent, Uzbekistan. His last book Symbolic Insult in Diplomacy: A Subtle Game of Diplomatic Slap was published in 2018 (Leiden and Boston: Brill). To find Faizullaev's click here.