Journal
The Hague Journal of Diplomacy (HJD) is the world's leading research journal for the study of diplomacy and was founded in 2005.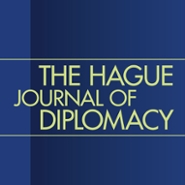 It publishes on the theory, practice, processes and outcomes of diplomacy in both its traditional forms, as well as contemporary diplomatic expressions practiced by states and non-state entities.
Each issue aims at a balance between theoretical and empirical studies. Diplomatic studies is an inter-disciplinary field.
A central aim of HJD is to present work from a variety of intellectual traditions and the journal is receptive to a wide array of methodologies.