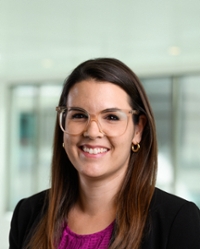 Sarah Giest
Associate professor
Name

Dr. S.N. Giest

Telephone

E-mail

ORCID iD
Sarah Giest specializes in public policy analysis focusing on policy instruments and capacity in the innovation, technology and sustainability realm. This includes, for example, the use of big data for public climate change efforts or the capacity of government to innovate in urban settings.
Research
Current projects in collaboration with public entities and Computer Science focus on the use of data in the urban context for solving sustainability challenges. Such as:
READ urban: Robust Estimation using Aggregated Data for Urban policy making
The Hague Going2Zero: Understanding the complexities of the energy transition in The Hague for environmental policymaking
Sarah's research has been published, among others, in Public Administration, Policy Sciences, Energy Policy and Regional Environmental Change. Sarah has co-edited a special issue on 'Big Data Applications in Governance and Policy' and is part of the Editorial Board of Policy Design & Practice.
Teaching
Sarah teaches at Master level focusing on digitisation/ data and sustainability:
Data-driven Policymaking (Elective for Public Administration (MPA) and Computer Science (LIACS) Students)
Governance of Materials & Circular Economy linked to Institutions & Policy Cycles (Master of Sustainability Students, taught together with Environmental Science)
At bachelor level, Sarah offers a course in the Faculty of Governance and Global Affairs' Honours Program called 'Governing Science, Society and Expertise'.
Sarah holds a PhD with distinction in Political Science from Simon Fraser University, Canada and two Master degrees - one in Political Science (Bonn University) and one in Science, Society and Technology Studies (Aalborg/Lund University).
Associate professor
Faculty Governance and Global Affairs
Instituut Bestuurskunde
Work address
Wijnhaven
Turfmarkt 99
2511 DP The Hague
Room number 4.107
Contact
No relevant ancillary activities