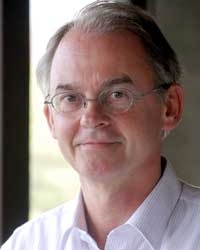 Olf Praamstra
Professor emeritus by special appointment of Dutch Colonial and Postcolonial Literature
Name

Prof.dr. O.J. Praamstra

Telephone

E-mail
Fields of interest
Dutch Literature after 1800; Literature of the Dutch East Indies; South African Dutch Literature
Research
Dutch literature in contact with other cultures
Olf Praamstra's research focuses on the reception and development of Dutch literature in contact with other cultures. In international literary history and comparative literary studies Dutch literature plays a minor role. In the Netherlands much research has been done on the influence of French, German or English literature on Dutch literature; however Dutch literature itself seems to have left no traces internationally.
Nevertheless, the study of Dutch Language and Culture is popular abroad. There are more than two hundred universities outside the Dutch speaking area where one can study Dutch Language and Culture. A great deal of the research done by the institutions 'Extra Muros' is concerned with the reception of Dutch literature abroad. Studies have been published on the reception of particular authors and also on specific periods from Dutch literature in France, Indonesia, Scandinavia and the German speaking countries, amongst others. In these studies two aspects strike one immediately: firstly, researchers abroad refer to a different literary canon than those in the motherland, and secondly the study of Dutch literature by non-Dutch researchers always leads to questions concerning Dutch identity.
In addition to this research on the reception of Dutch literature in other cultures, my research also focuses on Dutch literature that has come into existence in other cultures.
The colonial expansion is responsible for an extensive Dutch literature that has been written during, or is inspired by, a stay outside the Netherlands. In this way Dutch East-Indian literature, Dutch Antillean and Surinamese literature, and Dutch South-African literature came into being. As in the research on the reception of Dutch literature abroad, here too it concerns interactions between two cultures. This literature also includes that of migrants who write in the Netherlands in Dutch from a foreign background. Currently I am preparing a comprehensive study on South African Dutch writing from the year 1652 to this day (with Eep Francken).
Teaching activities
Dutch Literature from 1800 to the present day
National History from 1800 to the present day
Colonial and postcolonial Dutch Literature
Publications
Een feministe in de tropen, de Indische jaren van Mina Kruseman. Leiden, 2003 (Boekerij 'Oost en West').
(With Eep Francken), 'Towards an anthology of South African Dutch literature', in: T.J. Broos, M. Bruyn Lacy, Th.F. Shannon [eds.[, The Low Countries: Crossroads of Cultures, Münster, 2006, p. 127-142.
Busken Huet, een biografie. Amsterdam, 2007
(With Eep Francken), 'Een vierde kwartier in de Nederlandse koloniale literatuur, De Nederlandse literatuur van Zuid-Afrika, in: Tijdschrift voor Nederlandse Taal- en Letterkunde, 124 (2008), p. 141-158.
(With Eep Francken), 'De wederopstanding van de Zuid-Afrikaanse Nederlandse literatuur? Over de "canonisering" van minderheidsliteraturen', in: Literator, 33 (2012), nr. 2, Art. #140. https://dx.doi. org/10.4102/lit.v33i2.140
(With Jeroen Dewulf, Michiel van Kempen) [eds.], Shifting the Compass: Pluricontinental Connections in Dutch Colonial and Postcolonial Literature. Newcastle upon Tyne: Cambridge Scholars Publishing, 2013.
Professor emeritus by special appointment of Dutch Colonial and Postcolonial Literature
Faculty of Humanities
Centre for the Arts in Society
Moderne Nederlandse L&C
No relevant ancillary activities