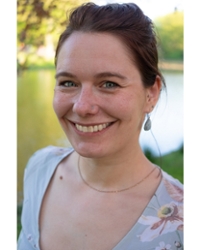 Marion Pluskota
Assistant professor
Name

Dr. M. Pluskota

Telephone

E-mail

ORCID iD
Marion Pluskota is assistant professor in Social and Economic History specialized in crime history and the history of prostitution/sex work.
Fields of interest
My main field of interests is the history of sex work and its criminalization, and gender relations in crime history from the 18th- to the early 20th-century in Europe. I am particularly interested in the use of the urban space for criminal/illegal/undesirable purpose and how gender influenced this geography.
Curriculum Vitae
I am a University Lecturer in Social History at Leiden University since 2017, with expertise in crime and sex work history.
I completed my PhD in 2012 at the University of Leicester, UK which was then published as Prostitution and Social Control in Eighteenth-Century Ports (2015). I have published extensively on the history of prostitution and continue to be interested in this topic in a long-term perspective.
In 2012, I moved to Leiden to become a post-doc and co-director of the NWO-project Crime and Gender, 1600-1900 led by Prof. Manon van der Heijden. I have been working on crime and gender relations in criminality in the nineteenth century, in Bologna, Amsterdam and Le Havre: I showed that the gender bias noticed in the UK judicial system was not as strong on the continent and that the type of crimes committed was linked to the development of the welfare state.
I directed various projects focusing on the use of the urban space, such as Dangerous Cities, Mapping Crime in 19th-century Amsterdam and Leiden, where crimes were mapped to highlight correlations between spatial features, crime opportunities, and gender. This project made use of GIS, linking criminal records with Leiden and Amsterdam cadasters. I also co-directed the project PROSPECT: The Spectacle of Prostitution, which looked at the material culture surrounding 19th-century prostitutes in Amsterdam.
My new research project focuses on mapping sex work in 20th-century Amsterdam and analyzing the power relations at play in the geography of sex work.
Key publications
Pluskota, Marion. "Governing Sexuality: Regulating Prostitution in Early Modern Europe." In New Approaches to Governance and Rule in Urban Europe Since 1500, edited by Simon Gunn and Tom Hulme, 87–108. Routledge, 2020.
Pluskota M.; Petty Criminality, Gender Bias, and Judicial Practice in Nineteenth-Century Europe, Journal of Social History, Volume 51, Issue 4, 1 June 2018, Pages 717–735, https://doi.org/10.1093/jsh/shx156
Pluskota M. (2015), Prostitution and Social Control in Eighteenth-Century Ports Perspectives in Economic and Social History. Abingdon: Routledge.
Pluskota M. (2017), "Prostitution and Labour Relations". In: Rodriguez Garcia M., Nederveen Meerkerk E. van, Heerma van Voss L. (Eds.) Selling Sex in the Cities. Leiden: Brill.book chapter
Assistant professor
Faculty of Humanities
Institute for History
Economische en Sociale geschiedenis
Work address
Johan Huizinga
Doelensteeg 16
2311 VL Leiden
Room number 2.08a
Contact
Editor-in-chief
Member of the editorial board