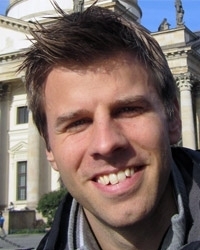 Marcel IJsselstijn
PhD candidate
Name

M. IJsselstijn MA

Telephone

E-mail
Marcel IJsselstijn is a PhD candidate at the Faculty of Archaeology.
Marcel IJsselstijn studied Human Geography (BSc) at the University of Utrecht and Heritage Studies (MA) at the Vrije Universiteit Amsterdam (cum laude). During his studies, he developed a strong interest in the long-term spatial development of towns in the Netherlands and abroad.
In his master-thesis 'De historisch gelaagde stad' (The historically-stratified town), he explored the possibilities of applying the theoretical concept of 'the biography of landscape' in the urban context. After graduating, he pursued his interests as an independent researcher. He was one of the authors of the Atlas of the Dutch Urban Landscape, the first overview on urbanization in the Netherlands written from a long-term, spatial perspective. He was also involved in local projects by publishing an atlas of the Westland-region and contributing to books on the spatial development and heritage of Zeist, Barendrecht and the Schiezone between Delft and Rotterdam/Schiedam.
Marcel is an editor of the journal Tijdschrift voor Historische Geografie.
PhD candidate
Faculteit Archeologie
World Archaeology
Historical Archaeology