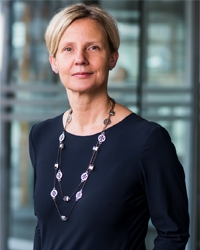 Katja Zeppenfeld
Professor Cardiology, in particular clinical electrophysiology
Name

Prof.dr. K. Zeppenfeld

Telephone

E-mail
Katja Zeppenfeld is a professor of clinical electrophysiology and head of the clinical electrophysiology research and treatment centre in Leiden, The Netherlands. She is furthermore involved in numerous directorial duties within the European Heart Rhythm Association (EHRA).
Clinical electrophysiology
Professor Zeppenfeld is specialised in clinical electrophysiology, in particular research into the treatment of complex cardiac arrhythmias. Her academic expertise lies at the intersection of medicine, physics and biology. Whilst clinical electrophysiology is a relatively young field, recent advances in technology coupled with increasing clinical demand for effective treatment strategies of cardiac significant clinical problem, partially due to lack of knowledge and broadly applicable treatment strategies. Her drive and daily motivation arise from the desire to understand the mechanisms underlying these arrhythmias and the will to translate this understanding into clinical practice for the direct benefit of patients. She is furthermore driven to pass on her expertise to the next generation of clinical electrophysiologists.
Academic career
Katja Zeppenfeld studied medicine at the University of Bochum (Germany) and the University of London (England). After graduating (Summa Cum Laude), she specialised in internal medicine and interventional cardiology whilst completing her PhD in neurophysiology in parallel. After she defended her thesis (Cum Laude) in 2002, she specialised in cardiac electrophysiology, after which she moved to Leiden to further develop the clinical electrophysiology. As part of her drive to advance the understanding of causes and treatment of life-threatening arrhythmias, she went to the Brigham and Women's hospital (Harvard Medical School) in Boston (U.S.A.) in 2006 for a long-term research visit. In the subsequent years she has built up numerous novel research lines which have resulted in advances in not only our understanding of arrhythmias but also advances in their treatment. She was appointed Professor in clinical electrophysiology in 2012 and in the summer of 2013, she gave her inaugural lecture entitled "The network short-circuited". Katja Zeppenfeld's most important research lines include the exploration of the mechanisms and treatment of complex ventricular arrhythmias and arrhythmias in patients with congenital heart disease. These, and other, research lines have resulted in numerous original publications in highly reputable scientific journals, several reviews, editorial comments and book chapters, and frequent invitations to give lectures at international congresses including the prestigious Paul Wood Lecture (Imperial College London). The integration of impeccable clinical care with innovative and applicable research has made professor Zeppenfeld a highly recognized advisor and supervisor for clinicians and researchers. Her reputation as a clinician is also reflected by the fact that patients from throughout Europe are referred to her directly for the treatment of complex arrhythmias. Professor Zeppenfeld has personally supervised the research of 12 PhD candidates and the clinical training of more than 20 international fellows.
Katja Zeppenfeld is also involved in several educative and scientific organizations outside of her centre. She was the head of the European commission for the Certification of Clinical Electrophysiology and Device therapy for doctors, technicians and allied professionals between 2011-2015. She has furthermore been involved in the organizing and executing of a number of international scientific congresses, of the European Heart Rhythm Association and the Heart Rhythm Society in particular. Her expertise is sought after in the drafting of international guidelines for the treatment of arrhythmias in patients with congenital and acquired heart disease. Katja Zeppenfeld has served as the associate editor of the Journal of the American College of Cardiology: Clinical Electrophysiology and serves actively on the editorial board of a number of different journals including Circulation: Arrhythmia and Electrophysiology. She is visiting professor in Vanderbilt, Nashvile, US and honorary professor Aarhus University Hospital.
Professor Cardiology, in particular clinical electrophysiology
Faculteit Geneeskunde
Divisie 2
Hartziekten
EHRA Board member, Committee chair EHRA certification