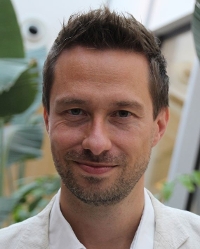 Florian Schneider
Senior University Lecturer Modern China Studies
Name

Dr. F.A. Schneider

Telephone

E-mail

ORCID iD
Florian Schneider's research interests include questions of governance and public administration in the PRC, Taiwan, and Hong Kong, political communication strategies and political content of popular Chinese entertainment, recent Chinese economic developments, as well as Chinese foreign policy. He is also managing editor of the academic journal 'Asiascape: Digital Asia'
Fields of interest
Politics and Economics of Modern China, Chinese Media, China in International Relations, (Visual) Political Communication in China, Traditional Chinese Political Thought.
Supervision
I supervise MA theses on issues related to politics, international affairs, and media in mainland China, Taiwan, and Hong Kong, though I also welcome projects that deal with politics and political communication in the East Asian region more generally. My PhD supervision focuses primarily on the digital politics of East Asia, with a special focus on China.
Research
Florian Schneider's research interests include questions of governance and public administration in the PRC, Taiwan, and Hong Kong, political communication strategies and political content of popular Chinese entertainment, recent Chinese economic developments, as well as Chinese foreign policy.

Florian's most recent work focused on the political contents of mainland Chinese films and popular Chinese television series, including their production process, censorship, broadcasting, and audience reception. Methodologically his work has combined critical discourse analysis, semiotics, and iconography, as well as the analysis of semi-structured qualitative interviews.

A current project deals with staged mass-media events in mainland China, such as the Beijing Olympic Games Opening Ceremony in 2008, the 60th Anniversary of the People's Republic of China in 2009, and the Shanghai Expo in 2010. The project explores how the Chinese leadership makes use of such events to promote a national identity and legitimize its own rule. A primary question in this regard is how concepts of tradition and of modernization (or progress) feature into such events, and what impact they have on the interaction between China and other actors in the international community.
Senior University Lecturer Modern China Studies
Faculty of Humanities
Leiden Institute for Area Studies
SAS China
Managing Editor of journal Asiascape: Digital Asia