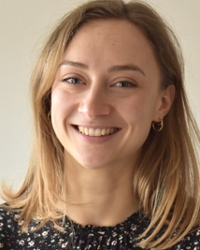 Eva Grosfeld
PhD candidate
Name

E. Grosfeld

Telephone

E-mail

ORCID iD
Eva obtained a bachelor's degree in Language and Culture Studies (2015) and in Psychology (2017) at Utrecht University. After these studies she decided to continue in psychological research and completed the research master's program Social and Health Psychology at Utrecht University cum laude (2020), while simultaneously working as a student-assistant at the Social, Health and Organisational Psychology department.
During her master's, Eva also completed the Leadership Honours Program and was a counselor for the Honours Education.
As of June 2020 she is working as a PhD candidate at the department of European Law, on an interdisciplinary project called: "Adapting EU courts to human nature: applying insights from social psychology to improve the legitimacy and conflict solving capacity of EU courts." This research takes a social psychological perspective to investigate how we can explain and overcome the legitimacy crisis the EU is currently facing. The project is supervised by dr. Armin Cuyvers and prof. dr. Daan Scheepers, and is in collaboration with the Ellemers lab in Utrecht.
PhD candidate
Faculteit Rechtsgeleerdheid
Instituut voor Publiekrecht
Europees Recht
No relevant ancillary activities