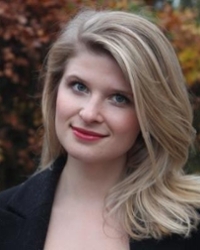 Elise Kortink
PhD Candidate
Name

E.D. Kortink MSc

Telephone

E-mail

ORCID iD
Short CV
Elise Kortink is a PhD candidate at the unit Developmental and Educational Psychology of the Institute of Psychology at Leiden University.
Elise obtained her Research Master degree in Developmental Psychology, combined with the Child- and Adolescent Psychology master, in 2017. In 2017 she also started the master Clinical Psychology, which she will finish in 2018. Elise wrote her master thesis on the effect of individual differences in personality on someone's neural response to social evaluation, and continued this research during her internship at the Yale Child Study Centre.
In September 2018, she started her PhD project, which aims to identify subgroups of people, characterized by similarities in personality, environmental, physiological (EEG/ECG) and behavioral responses in various social contexts. These subgroups, or 'symptom-profiles' indicate who is at risk for developing social anxiety disorder in adolescence. In particular, Elise will investigate potential differences in a brain mechanism involved during behavioral responses to uncertain social situations and social learning.
Teaching
Academic Skills Tutorial (IBP)

Bachelor Thesis

Behaviour Training with Children

Cognitive Behaviour Therapy with Young People

Developmental Psychopathology

Interpersonal Professional Skills (IBP)

School Psychology
Awards
NWO Research Talent grant

Research Master Thesis award

Janneke Fruin Helb Prize

LUF International StudyFund grant (LISF)
Links
PhD Candidate
Faculteit der Sociale Wetenschappen
Instituut Psychologie
Ontwikkelings- & Onderwijspsychologie
No relevant ancillary activities