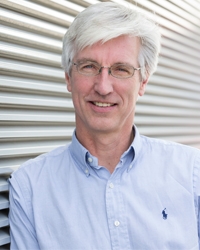 Eelco de Koning
Professor of Diabetology, in particular beta cell transplant and beta cell regeneration
Name

Prof.dr. E.J.P. de Koning

Telephone

E-mail
Eelco de Koning is professor of diabetology at the Leiden University Medical Center. He heads the LUMC diabetes center and coordinates the human islet transplantation program which is a national service. He also heads the national expertise center on Maturity-Onset Diabetes of the Young (MODY). His research is focused on innovative cell replacement therapies as treatment for patients with diabetes mellitus.
Diabetology
The treatment of type 1 diabetes consists of symptomatic treatment with insulin. There is no cure. Treatment with insulinproducing cells can abolish the need for insulin. The research group of Eelco de Koning is focused on understanding the development and identity of human insulinproducing cells, on strategies to generate these cells from stem cells and methods to transplant insulinproducing cells in patients with diabetes mellitus. This research is in line with his chair in "Diabetology, in particular beta cell regeneration and transplantation" and is connected to the route "Regenerative Medicine" of the Dutch National Research Agenda (2015).
Academic career
Eelco de Koning studied medicine at the University of Utrecht in the Netherlands and received his medical doctorate in 1991. Subsequently, he moved to England and started research into islet biology and pathology at the Diabetes Research Laboratories in Oxford under supervision of Anne Clark and Robert Turner. He obtained a MRC Training Fellowship to finish these studies in Oxford which resulted in a Ph.D. thesis titled "Islet amyloid and islet amyloid polypeptide in diabetes" at the University of Utrecht in 1994.
In the same year he started his training in Internal Medicine followed by a fellowship in Endocrinology at the University Medical Center Utrecht (UMCU) and was board certified in endocrinology in 2001. He joined the research group of Ton Rabelink at the UMCU focusing on vascular complications in diabetes mellitus. A Career Development Grant awarded by the Dutch Diabetes Research Foundation and a transfer to the Leiden University Medical Center in 2004 allowed him to work on establishing a national clinical islet transplantation program. He obtained a fellowship from the Joslin Diabetes Center (Harvard Medical School) in Boston which enabled him to gain expertise in clinical beta-cell therapy and to lay the foundations of a research program into human islet and stem cell biology.. In 2006 he returned to the LUMC and established a clinical islet isolation and transplantation program. From 2010-2021 he was also group leader at the Hubrecht Institute for Developmental Biology and Stem Cell Research in Utrecht. Using a bench-to-bedside approach he has initiated and heads (inter)national multicenter research programs on improvement of islet transplantation and use of stem cells for islet replacement therapy for patients with diabetes mellitus. In 2010 he also became group leader at the Hubrecht Institute in Utrecht, the Netherlands. He is Professor of Diabetology at the University of Leiden since November 2011. The title of his inaugural lecture was "Van cel naar archipel".
Professor of Diabetology, in particular beta cell transplant and beta cell regeneration
Faculteit Geneeskunde
Divisie 2
Interne Geneeskunde
Nierziekten
Member of Council
Lid
Lid
Member International Advisory Board
Lid commissie nascholing internisten
Lid wetenschappelijke adviesraad
Bestuurslid