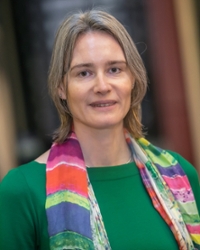 Dineke Tigelaar
Assistant Professor
Name

Dr. E.H. Tigelaar

Telephone

E-mail

ORCID iD
Dineke Tigelaar is an Assistant Professor at ICLON Leiden University Graduate School of Teaching. She graduated in Educational Sciences and in 2005 she defended her PhD-thesis in Maastricht University on the design and evaluation of a teaching portfolio. She has been involved in various projects on professional learning and assessment of teachers and curriculum development. Her major research interests pertain to professional learning and assessment in various contexts and domains of expertise. Dineke is coordinator of the ICO theme group 'Teaching and Teacher Education'. She is also associate editor of the journal Teachers and Teaching, Theory and Practice. As secretary she is also a member of the editorial board of Pedagogische Studiën.

Research
Dineke's research activities focus on the formal and informal learning of teachers and other professionals and the role of (formative) assessment in this regard. She also supervises various PhD students from different national and international educational contexts.
Education
Dineke is a research skills teacher and supervisor. She is responsible for the ICO PhD course 'Teaching and Teacher Education'. She is also a PhD supervisor at the Dual PhD Centre.
Work address
Willem Einthoven
Kolffpad 1
2333 BN Leiden
Room number B4.09
Contact
No relevant ancillary activities