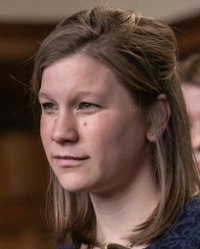 Clara van Dam
Guest
Name

Mr.dr. J.C.A. van Dam MA

Telephone

E-mail

ORCID iD
Clara van Dam is an Assistant Professor at the department of Constitutional and Administrative law at Leiden University.
General
Clara van Dam is Assistant Professor at the Department of Constitutional and Administrative Law of Leiden Law School. Her research concentrates on European and national administrative law with a particular focus on informal administrative governance.
Clara studied Law and Political Sciences at Leiden University. She obtained the master degree in Dutch Constitutional and Administrative Law from Leiden University (2011; with distinction) and the master degree in European Political and Administrative Studies at the College of Europe in Bruges (2012; mention très bien). In the first semester of 2010/2011 Clara studied at l'Institut d'études politiques in Paris.
In September 2013 Clara was awarded the Meijers PhD-position to conduct doctoral research at the Department of Administrative and Constitutional Law of Leiden University. Clara obtained her doctorate in February 2020. Her dissertation unravels the role of guidance documents of the European Commission in the Dutch legal order and analyses the implications in light of legal principles that govern the implementation EU law. The analysis finds that the legitimacy of guidance documents is at risk, and invites to rethink 'governance through guidance'.
During her doctoral research, in 2015-2016, Clara worked as a Blue Book trainee at the Directorate General for Agriculture and Rural Development of the European Commission. During this traineeship she worked on a 'guidance for guidance', which outlines general rules and principles to be taken into account by Commission officials when drafting, issuing and using guidance documents.
As a PhD student Clara attended the Academy of European Law Summer School at the European University Institute (Florence, 2014) as well as the Summer School in Methods and Techniques; Process Tracing Methodology; European Consortium of Political Research (Ljubljana, 2014).
From September 2017 until July 2018 Clara was, as academic coordinator, involved in the development and organization of the first edition of Summer Course 'Europeanisation of administrative law in the EU Member States' which took place in The Hague in July 2017.
Clara is a member of the editorial board of the Dutch Journal for European Law (NtEr). Since November 2014 Clara has been a board member of the Dutch Association for European Law (NVER). Clara has been involved in the organisation of the Young FIDE Seminar as well as of the FIDE Congress that will take place from 12-15 May 2020 in The Hague. Clara also was a board member of the Dutch Association for Young European Lawyers (STER).
Teaching
Clara has coordinated and taught in several bachelor and master courses on Dutch administrative law and European administrative law, as well as on legal methodology. She is currently coordinating and teaching in the following courses:
Administrative Law (Bachelor II 5 ECTS)

Privatissimum and Practicum: Europeanisation of Administrative Law (Master 10 ECTS)

Supervision of Bachelor Theses

Supervision of Master Theses
Guest
Faculteit Rechtsgeleerdheid
Instituut voor Publiekrecht
Staats- en Bestuursrecht
Lid van de redactie (beoordeling artikelen en verwerven van kopij/auteurs)
Bestuurslid