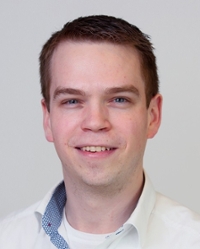 Anthe Janssen
Assistant Professor
Name

Dr. A.P.A. Janssen

Telephone

E-mail

ORCID iD
Anthe Janssen focusses on bridging the computational and experimental drug discovery by implementing and developing new machine learning techniques in combination with the rapidly developing field of chemical biology. Using computational clusters, organic chemistry labs and biochemical profiling facilities projects are carried out from in silico to in vitro in house.
Biography
Anthe Janssen was born in Nootdorp and moved to Leiden in 2009 after starting a bachelor's degree in Molecular Science and Technology, a shared programme between the TU Delft and Leiden University in 2008. He obtained his bachelor's degree in 2011 cum laude. He continued his studies with the master programme Chemistry with a specialisation in 'Design and Synthesis' at Leiden University and obtained his degree summa cum laude in 2014.
During his master's education he performed an industrial research internship at ASML in Veldhoven, the Netherlands which focussed on the physicochemical understanding of the phase separation of polymers in confined lithographic spaces, and potential applications thereof. He performed his major research project in the Bio-organic Synthesis group with prof. dr. G. A. van der Marel. This research studied the synthesis of small iminosugars and their conformational behaviour under varying acidity in aqueous and organic solvents. For this thesis he was awarded the Unilever Research Prize 2014.
In September 2014 he started his doctoral studies in the Leiden Institute of Chemistry, in the group of Molecular Physiology under supervision of prof. M. van der Stelt. Here he worked on the design, synthesis and biochemical evaluation of new diacylglycerol lipase inhibitors (J. Med. Chem., 2019). He was also involved in the project elucidating the off-targets of the experimental drug BIA 10-2474, a fatty acid amide hydrolase inhibitor, which caused severe neurological symptoms and killed a patient in a first-into-human study in France (Science, 2017).
He also developed an in silico prediction model for kinase inhibitor selectivity (JCIM, 2019), through what became a close collaboration with dr. G.J.P. van Westen, faculty member of the Leiden Academic Centre for Drug Research. He defended his thesis titled 'Inhibitor Selectivity: Profiling and Prediction' in May 2019. He stayed in Leiden for a postdoc as part of the Oncode Institute, maintaining the collaboration with (now) professor Van Westen and professor Van der Stelt.
In July 2020 he was appointed as assistant professor in computational chemical biology, and as such will continue the integration of computational drug discovery into the experimental fields of medicinal chemistry and chemical biology.
Curriculum Vitae
Education
2019 PhD, Leiden Institute of Chemistry, Leiden University, The Netherlands, 1 May 2019. Thesis title: 'Inhibitor Selectivity: Profiling and Prediction'
2014 Master Chemistry, Leiden Institute of Chemistry, Leiden University, the Netherlands
2011 Bachelor Molecular Science & Technology, Leiden University & TU Delft, the Netherlands
Current and previous research positions
2020 - now Reseach Assistant Professor, Leiden Institute of Chemisty, Leiden University, the Netherlands
2019 - 2020 Postdoctoral researcher, Leiden Institute of Chemisty, Leiden University, the Netherlands (Prof.dr. M. van der Stelt)
Contribution to teaching and supervision
Courses for MSc Chemistry at Leiden University: Advanced Medicinal Chemistry, Computational Techniques for Chemical Biology.
Course for BSc Life Science & Technology at Leiden University & TU Delft: Chemische Biologie
Co-supervision of 2 PhD students since 2019
Publication record including four representative publications
10 papers with >200 citations, H-index 5 (Google Scholar)
van Esbroeck, A. C. M.; Janssen, A. P. A. et al. Activity-Based Protein Profiling Reveals off-Target Proteins of the FAAH Inhibitor BIA 10-2474. Science. 2017, 356 (6342), 1084–1087.
Janssen, A. P. A. et al. Development of a Multiplexed Activity-Based Protein Profiling Assay to Evaluate Activity of Endocannabinoid Hydrolase Inhibitors. ACS Chem. Biol. 2018, 13 (9), 2406–2413.
Janssen, A. P. A. et al. Structure Kinetics Relationships and Molecular Dynamics Show Crucial Role for Heterocycle Leaving Group in Irreversible Diacylglycerol Lipase Inhibitors. J. Med. Chem. 2019, 62 (17), 7910–7922.
Janssen, A. P. A. et al. Drug Discovery Maps, a Machine Learning Model That Visualizes and Predicts Kinome–Inhibitor Interaction Landscapes. J. Chem. Inf. Model. 2019, 59 (3), 1221–1229.
Assistant Professor
Science
Leiden Institute of Chemistry
LIC/Chemical Biology
Work address
Gorlaeus Building
Einsteinweg 55
2333 CC Leiden
Room number DE3.01
Contact
No relevant ancillary activities