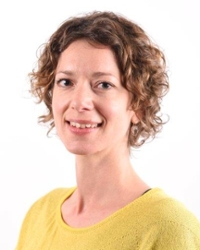 Anne Miers
Associate Professor
Name

Dr. A.C. Miers

Telephone

E-mail

ORCID iD
Short CV
Anne Miers is Associate Professor at the department of Developmental and Educational Psychology, Institute of Psychology, Leiden University.
Miers received her Bachelor degree in Psychology (1st class honours) from University College London, in 2001. Between 2001 and 2003 she worked as a Quantitative Researcher at National Centre for Social Research (NatCen), London where she was involved in large scale longitudinal studies, e.g., Millenium Cohort Study. Following this, Anne obtained her Master degree in 2004, in Child Development (with distinction), from the Institute of Education, London. Hereafter, she moved to the Netherlands where, in 2010, she obtained her PhD from Leiden University, entitled "Bias or Reality? Negative perceptions of ambiguous social cues, social performance and physical arousal in socially anxious youth".
Miers' PhD project, the Social Anxiety and Normal Development Study (SAND) supervised by Prof. P. M. Westenberg, and Dr. A. W. Blöte, is a unique, large, longitudinal study of social anxiety in children and adolescents, conducted between 2005 and 2010. During her PhD project, Miers investigated several negative cognitive processes in socially anxious teenagers and whether these cognitions are grounded in reality.
In her post-doctoral research Miers utilised the rich longitudinal SAND data to focus on both interpersonal and intrapersonal influences at school as predictors of social fear in adolescents. This involved using different statistical techniques such as latent class growth modelling to longitudinally investigate the effect of peer evaluation and negative perceptions in a school speech task on the development of social fear in youth aged 9-21 years.
Research
In her current research, Miers aims to discover new ways to ameliorate social anxiety with a particular focus on the role the peer group plays in this process. Her research focuses on different intervention techniques for social anxiety problems in youth, for example in the micro-trial study conducted in collaboration with TNO, University of Amsterdam and Radboud University. In addition, Miers is interested in the structure of psychopathology, particularly using network analysis, and investigating ways to examine the temporal dynamics of cognitive and affective processes involved in social anxiety.
Teaching
Coordinator Clinical Child and Adolescent Psychology
Coordinator Advanced Child and Adolescent Psychiatry
Supervision of professional and research master student theses
Supervision of professional and research master student internships
Grants
2019

"Sociaal-angstige jongeren in de spotlight: PoPPSaY! project." (€12,500). Stichting Praesidium Libertatis I/Universiteit Leiden. Principal Investigator.

2016 ZonMw-NWO, Programme common interventions and their efficacy. Awarded to Netherlands Organisation for Applied Scientific Research (TNO) and partners (€27,848)
2010 NWO, FES-Leren Programma 4: De lerende adolescent: Kiezen, beslissen en sociale cognitie. co-applicant (€ 75,000)
Awards
2019 Early Career Researcher Award, runner up: International Society for Affective Disorders, Institute of Psychiatry, King's College London.

2010 PhD prize for best article of the academic year 2009-2010, Leiden University
2004 Prakesh De Silva 1st Prize awarded by Convocation Trust for MSc, IOE, University of London
Supervised PhD candidates
S. L. M. Jakobsson Mansson, 'Trial of blended care intervention in treating adolescents with social anxiety disorder', 2017 - present.
S. Vogelaar, Nederlandse Wetenschapagenda (NWA) project 'Verbinding onderwijs-jeugdzorg', since April 2018.
Registrations
University Teaching Qualification
Association for Psychological Science
International Society of Affective Disorders
Relevant links
LinkedIn profile
Twitter
Research Gate profile
Google scholar

Associate Professor
Faculteit der Sociale Wetenschappen
Instituut Psychologie
Ontwikkelings- & Onderwijspsychologie
No relevant ancillary activities