PhD project
Blended Care for Adolescents with Social Anxiety
Is blended care a feasible and effective treatment method for social anxiety in adolescence?
Duration

2017 - 2022

Contact

Partners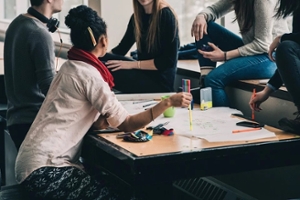 Social anxiety in adolescence
Adolescence is a period of great change. Not only are there great physiological and hormonal changes at play; there are social ones too. As the role of family becomes less important, the influence of friends and peers gains significance. Many teenagers are able to navigate this testing time, yet some find it difficult to make friends or speak in front of others due to fear of negative evaluation. This fear is called social anxiety and can lead to negative consequences such as isolation and loneliness; truancy and substance dependence; and depression and suicidality. In an effort to provide early intervention in order to prevent such adverse consequences, a program has been developed to target teenagers who experience social anxiety complaints.
Blended care
A such, this research aims to investigate the feasibility of a blended care module in treating social anxiety in adolescents by adding access to an mHealth support app to attending a group-based cognitive-behavioral therapy program. The program consists of 12 of social skills training sessions in a small group of age peers. The program gives much room for exposure exercises but also for reducing negative cognitions. The sample consists adolescents ages 12-17 recruited from local high schools. Using a variety of instruments and techniques, participants are assessed on their level of social anxiety, public speaking anxiety, depression, negative and positive cognitions, self-perception, and other disorder-related symptoms. Eye-gaze behavior during a public speaking exercise is registered using an eye-tracker. The goal of this study is to establish to what extent blended care is a feasible and effective treatment method.