Research project
The power of positive peers for socially anxious youth
Can positive peer feedback break the cycle of negative self-relevant cognitive processes and reduce self-reported anxiety in early adolescents?
Duration

2019 - 2021

Contact

Funding

Leiden University Funds: Stichting Praesidium Libertatis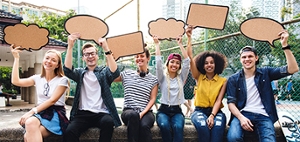 Social anxiety disorder is one of the most prevalent mental health disorders in adolescents. It typically has its onset in early- to mid-adolescence. The personal and societal costs of social anxiety disorder are substantial. Of all the anxiety disorders it is the most difficult to treat effectively. A quarter of adolescents report strong, subclinical, social fears. The development of severe mental health problems, such as depression and self-harm, psychosis, and substance use, may be prevented by targeting social anxiety symptoms at an early age. Hence, it is an urgent public health priority to develop effective, accessible, methods to reduce social anxiety symptoms in adolescents.
Current methods focus on reducing negative cognitions about other people's social behaviour. Those methods typically do not include the important peer context. I recently developed a different and innovative experimental intervention: The Power of Positive Peer feedback for Socially anxious Youth. First, self-relevant cognitive processes that drive and maintain social anxiety symptoms are targeted. Second, positive social feedback given by same-age peers, via the digital medium Skype, are used to achieve positive change in these processes. I have obtained promising findings in a pilot study with high socially anxious university students. This project will extend these findings to the crucial early adolescent age group (12-14 years).
The project will benefit early preventive methods for social anxiety through inclusion of young adolescents. Moreover, the project will be used to inform the development of an accessible adjunctive e-health intervention to help socially anxious teenagers approach social situations with confidence.
This project is a part of the my positive peer feedback research line that employs different methods in different subprojects: self-report questionnaires, speech task, behavioral observation, neurophysiology, experience sampling collection via smartphones, and digital mediums for the provision of feedback. This research also extends investigation of peer feedback on socially anxious youth's self-esteem and social behavior in daily life.