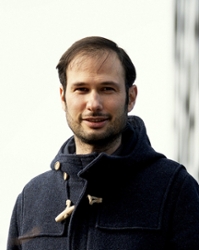 Alexander van Oudenhoven
Assistant professor
Name

Dr. A.P.E. van Oudenhoven

Telephone

E-mail

ORCID iD
Alexander van Oudenhoven is an environmental scientist who works on the interface between ecosystems and people.
Professional experience
Alexander van Oudenhoven is an environmental scientist who works on the interface between ecosystems and people. He specializes in quantifying and conceptualizing contributions that nature provides to humans, in relation to environmental management, spatial planning and decision making. For example, how do traditional 'hard' coastal protection structures (e.g. concrete dykes and barriers) compare to 'building with nature' in terms of coastal protection, dune development and fishery enhancement, and how can we incorporate biodiversity and ecosystems in urban planning, so that the intensive rainfall can be captured and heat stress reduced? Alexander joined CML in May 2015 as a postdoctoral researcher as part of the NWO-TTW-funded NatureCoast project. Since September 2018, however, he became Assistant Professor at the same institute. Alexander teaches courses for the BSc and MSc Biology programs at Leiden University, is currently setting up the new MSc Governance of Sustainability, and also teaches at Leiden University College in the Hague.
Next to his work at Leiden University, Alexander has also been Lead Author at the 'Intergovernmental science-policy Platform on Biodiversity and Ecosystem Services' (IPBES) since 2015. Open to all United Nations member countries, IPBES has become the leading intergovernmental body for assessing the state of the planet's biodiversity, its ecosystems and the essential services they provide to society. Alexander is responsible for the Regional Assessment for Europe and Central Asia. In addition, Alexander is Co-Editor-in-Chief of Ecosystems and People, an interdisciplinary open access journal that addresses how biodiversity and ecosystems underpin human quality of life, and how societal activities and preferences drive changes in ecosystems.
Education and earlier work
Alexander graduated from Wageningen University in 2008, where he obtained both his BSc and his MSc degree in the interdisciplinary field of Environmental Systems Analysis. He did an internship at the World Resources Institute (Washington, D.C.), and wrote an MSc thesis on the impacts of climate change on the spatial distribution of the oak processionary caterpillar (Thaumetopoea processionea), which constitutes a major health problem in western Europe. This work was done in collaboration with De Natuurkalender ('Nature's Calendar'), for which Alexander continued to work on spatial assessments of ticks (Lyme disease) and predicting pollen development (hay fever, the pollen planner).
Between 2009 and early 2015, Alexander was a PhD researcher at Wageningen University, combining his PhD research with several other applied projects. His research aim was to quantify the effects of management on ecosystem services (thesis). Alexander developed a framework for indicator selection and applied and tested this framework during case studies in National Landscape 'Het Groene Woud' (The Netherlands), mangrove systems in Java (Indonesia) and semi-arid rangelands, both globally and in the Eastern Cape (Southern Africa). Next to his PhD, he also took part in several projects with the Netherlands Environmental Assessment Agency (PBL), developing a database of ecosystem services in relation to biodiversity, land use, land cover and management. Finally, Alexander also participated in a trans-disciplinary project in Indonesia called 'Mangrove Capital', together with colleagues from Deltares, Wetlands International, The Nature Conservancy, Indonesian universities and several other partners. Findings of Alexander and colleagues have inspired local decision makers in Java, Indonesia, to consider mangrove ecosystem services in their coastal management plans for the coming years.

Between 2015 and 2018, Alexander was active as a post-doctoral researcher in NatureCoast, a transdisciplinary project focusing on the 'Sand Motor', a so-called mega-nourishment; around 21 million m3 of sand were deposited along the Ter Heijde coast, which should be sufficient for the next twenty to thirty years. Twelve PhD students from many different universities studied various aspects of the Sand Motor, ranging from the morphological trends, hydrology, geochemistry, ecology to the governance of such a project. One of Alexander's tasks was the integration of NatureCoast's research data into policy-relevant information. Because several international stakeholders (governments, tourism sector etc.) have also shown interest in the Sand Motor as a tool to strengthen their coasts, Alexander and his colleagues also looked into possibilities to apply the general nature-inclusive concept of the Sand Motor on other locations all over the world.
Research topic
In his current research and education, van Oudenhoven aims to embed the various concepts about human-nature relationships in policy and practice, such as ecosystem services, nature-based solutions, ecological engineering, sustainable land management. Following an transdisciplinary approach, Alexander works with municipalities, provincial authorities, water boards and (inter)national decision-makers to solve real-world problems through nature-inclusive approaches. Think of using urban green (and blue) to reduce local temperatures, increase water buffering and improve leisure opportunities, or restoring rivers to prevent flooding, improve water quality and create a more beautiful and appreciated landscape. A key aspect of Alexander's research is the development and analysis of indicators that are both scientifically valid and feasible, but also relevant to and perceived as legitimately developed by decision makers, managers and other stakeholders.

Assistant professor
Science
Centrum voor Milieuwetenschappen Leiden
CML/Environmental Biology
Work address
Van Steenis
Einsteinweg 2
2333 CC Leiden
Room number B2.15
Contact
No relevant ancillary activities