Website
BMA: Pesticide Atlas for Dutch surface waters
Improving environmental risk assessment of pesticides in surface waters (SWIERAP)
Author

CML - Environmental Biology

Date

01 April 2018

Links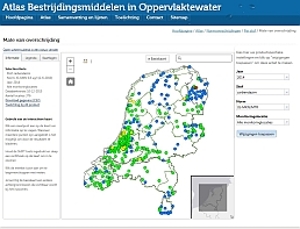 Introduction
The Pesticide Atlas, BMA (Dutch: BestrijdingsMiddelenAtlas) is one of the main research instruments/tools of the Department of Environmental Biology (EB). Raw monitoring data of pesticides and their metabolites are processed every year and if needed corrected. Then this tidied dataset is used to produces maps, graphs and tables, e.g. a map of standard exceedances of the EQS-AA for the neonicotinoid pesticide imidacloprid in a certain year in the Netherlands.
Framework
The corrected datasets and derived products of the Pesticide Atlas are at the heart of several research studies in the department Environmental Biology (EB):
It forms the basis for many desktop studies to underpin risk assessments (e.g. the risks for dairy production) environmental regulations and policies;

here is a permanent stream/flow of innovative research to improve products and applications of the Pesticide Atlas, also linked to other research groups within EB, e.g. the use of Remote Sensing and Citizen Science for determining water quality;

data and products from the Pesticide Atlas are an important input for exposure and toxicity research (in relation to ecosystem risk assessment), linked to the ecotoxicology research within EB. Field experiments using the information of measured pesticides concentrations in the Dutch surface water are conducted in the Living Lab.
Anticipated future research
3A's - Analysis: trend & time series analysis, spatial analysis, big data analysis (e.g. improving relationships land use & pesticides in surface waters)

3M's : effects of Mixtures, Multi stressors and Multiple scales

Improving monitoring design in time and space in relation to improved governmental environmental risk procedures (e.g. use data of relevant biological periods/seasons)

Improve dataflow: from monitoring by waterboards to maps of standard exceedances in the Pesticde Atlas by using api-s, cloud and web services.