Research facilities
Phonetics Lab
Application

Experimental research

Availability

Staff, PhDs, students and guest researchers. For all inquiries, borrowing equipment, questions and comments, please send an email to LUCL labs (lucl-labs@hum.leidenuniv.nl).

Location

Contact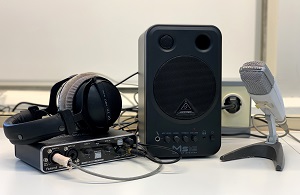 The Phonetics Lab was the first experimental lab set up at the Leiden University Centre for Linguistics (LUCL) in 1983. It consists of a recording set-up and four workstations for data analysis on auditory recordings, carried out by experimental and descriptive linguists alike.
High-quality recordings
LUCL researchers may use the Phonetics lab to produce high-quality recordings in a sound-attenuated booth. Researchers who produce recordings while on fieldwork anywhere outside the university can also make use of high-quality portable audio and video recording equipment.
Data of either sort may be analyzed on one of the six work stations available in the Phonetics lab, which include software such as Praat, Audacity, Audition, Fluent Dutch Text-to-Speech, ELAN, Matlab, and E-prime.
The Phonetics Lab is also used as a teaching room for multiple phonetics and experimental methods classes at the LUCL, including Methods in Speech Processing, Forensic Speech Science, Sound and Sound Structure, Analysis and Synthesis of Speech, Experimental Phonetics, and the Experimental Methods classes.
The Phonetics Lab is situated in the Lipsius Building room 1.07.
For more info on recent reseach or about using the lab, please contact LUCL labs.
Investigating fluency in speech

Examining cognitive effects of language

Collecting of longitudinal written and spoken data by second language learners

Digitising language data types recorded in analogue form for archiving, data mining and exploration

Investigating the relationship between linguistic and speaker-dependent information