Research facilities
Eye-tracking Lab
Application

Psycholinguistic research

Availability

Staff, PhDs, students and guest researchers. For all inquiries, borrowing equipment, questions and comments, please send an email to LUCL labs (lucl-labs@hum.leidenuniv.nl).

Location

Contact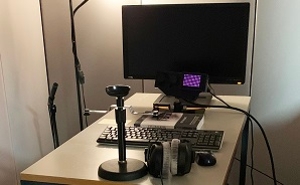 Established in 2008, the Eye-Tracking lab contains a high performance Eyelink 1000 eye tracking system. There is both a stable desktop system and a mobile system that can be taken on fieldwork or can be combined with other methods.
About eye-tracking
Eye-tracking is a method by which a small illuminator shines infrared light into the eye, while a camera picks up on the reflection of that light. Tracking the eyes as a method to understand how people read is a method that has roots as far back as the 1800s. Today it is non-invasive, highly accurate (approximately 3 ms precision) and various experiments can be generated that respond differently in real time depending on the participant's looking behavior.
Eye-tracking can be used to study many different aspects of language. We can present text to study how readers process written language, what aspects they get confused by or pay extra attention to when reading, and what reading habits and behaviors are present across populations.
Auditory or visual stimuli can also be paired with the eye-tracking to study how speakers of various proficiency process both spoken or signed speech. With a combination of auditory language and pictures presented on a screen in what is called the Visual World Paradigm, researchers can study whether participants hearing a word also activate other similar words, by tracking if the eyes move back and forth before settling on one picture, or whether they immediately settle on the word spoken without any interference from images sharing various properties with the target.
We may also use videos of actions or signed languages to understand what aspects of the actions people pay most attention to, how and when they process mistakes during signed language.
The Eye-tracking Lab is situated in the Lipsius Building room 1.12.
If you would like to run experiments in one of the labs, please get in touch with LUCL labs.
Investigating cognate facilitation in Frisian-Dutch bilingual children's sentence reading

Studying how mono-dialectal and bi-dialectal Mandarin listeners recognise spoken words