Veni grant for Nikki Ikani and Bernardo Ribeiro de Almeida
Nikki Ikani, Assistant Professor at the Institute of Security and Global Affairs (ISGA) and Bernardo Ribeiro de Almeida, Assistant Professor at the Leiden University College (LUC) and researcher at the Van Vollenhoven Institute have received Veni funding. A total of 188 scientists received grants in this round. Veni grants are awarded annually by NWO.
Ikani's research is titled: 'From alarm to action: the uncertain path of warnings in world politics'. Ikani: 'I got the news during my holidays. The process of obtaining the Veni grant was long and challenging, but with a wonderful outcome. It's an excellent opportunity for me to further delve into the anticipation of international crises, within our Intelligence & Security research group at ISGA.
This research is a continuation of previous research Ikani conducted on crises and policy changes in the EU. 'My research looks at how the European Union and NATO can better anticipate international crises. The importance and relevance of this subject is underlined by the Russian war of aggression in Ukraine.'
Ikani: 'By improving our understanding of how warnings about international crises "travel" through the EU and NATO, the research hopes to contribute to improving security policy. In this, I am supported by a wide advisory board of policymakers in the Netherlands, the EU, and NATO.'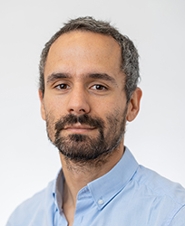 Climate change in a weak constitutional state
Ribeiro de Almeida's research deals with responses to climate change response in weak rule-of-law environments: protecting land rights of the most vulnerable.
Ribeiro de Almeida: 'I was delighted to get the news; it was a great way to end my vacation. My research looks at the implementation of climate change response laws and policies and their impacts on people's land rights in countries with weak rule of law. We are becoming increasingly aware of the consequences of climate change, especially in the Global South, and the need for mitigation and adaptation measures. However, many of these measures need land and can threaten the land rights of vulnerable people. For instance, the relocation of people living in flood-prone areas can leave them resettled without secure land rights and also deprive host communities of enough land for their livelihoods.'
His research focuses specifically on Mozambique and South Sudan. 'It aims to produce knowledge that can be used more broadly to promote effective climate change responses and prevent them from becoming another source of social injustices. I feel privileged to have the opportunity to research a topic with such high academic and societal relevance.'
Read more: Veni subsidies for 16 Leiden researchers