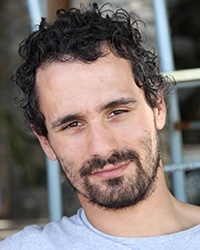 Bernardo Ribeiro de Almeida
Lecturer/ Researcher
Name

Dr. B. Ribeiro de Almeida

Telephone

E-mail

ORCID iD
Bernardo Almeida is a post-doctoral researcher and lecturer at the Van Vollenhoven Institute, who focuses on land, law, lawmaking and development.
Bernardo has a background in law, and started his professional career as a lawyer in Portugal. He then moved to Timor-Leste in 2009, first as a property rights lecturer at the National University, and later as a Ministry of Justice legal advisor for the land sector, responsible for legal drafting and analysis.
Between 2015 and 2020 Bernardo wrote his PhD thesis at the Van Vollenhoven Institute. His research, with the title 'Building land tenure systems: The political, legal, and institutional struggles of Timor-Leste', shows how political, legal, and administrative decisions on land administration are made, what and who influences them, which problems and dilemmas politicians and state officials face, and how the Timorese formal land tenure system works in practice. This research also takes a deeper look at lawmaking in the context of a young, developing democracy. He is currently working on a book proposal based on this research.
Since 2015 Bernardo has also worked as a consultant and trainer on projects in Timor-Leste, Afghanistan, Angola, and Laos for various organizations, including UNDP, UN Habitat, and The Asia Foundation, with special focus on land-related legislation. As an academic researcher at the VVI he has also developed and implemented two research projects in Timor-Leste and Mozambique, and has published several articles, book chapters, research reports, and policy briefs. See 'Publications´
Since 2018 he has taught the course Peace and Justice at the Leiden University College, and in 2021 will teach the course Law, Governance and Development. Bernardo has also delivered several guest-lectures in other courses at various universities and institutions, and since 2018 has collaborated with the Institute for Housing and Urban Development Studies (Erasmus Rotterdam University) in the Urban Management and Development Master.
His current research interests include land tenure, lawmaking, legal implications of climate change, transitional justice, and justice systems. He is interested in supervising master and PhD theses in these areas.
Lecturer/ Researcher
Faculteit Rechtsgeleerdheid
Instituut voor Metajuridica
Van Vollenhoven Instituut
No relevant ancillary activities