Leiden Lawcast season 2: Meet our new hosts
The Leiden Lawcast: the faculty podcast intended for and hosted by students. Every episode, our hosts discuss a trending topic with interesting guests, highlighting the subject from their academic or legal expertise. After a successful first season in 2022, Irem Çakir and Hamza Duprée have handed over the microphone to two new hosts. Who are they and what can we expect for the upcoming season?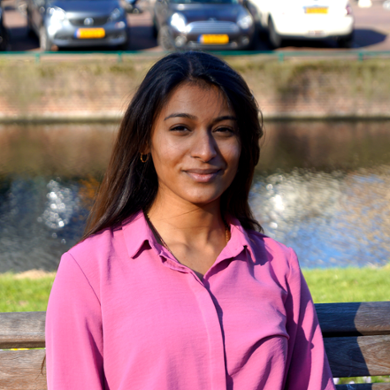 Ishana Bhadai, Bachelor's student Rechtsgeleerdheid and Fiscaal recht.
Why did you decide to become a host of the Leiden Lawcast?

I decided to become a host because I think it's important to understand how new developments on an academic level can influence the legal system and vice versa. I hope to inspire others to explore different subjects. The Leiden Lawcast offers a fresh opportunity to get into contact and have discussions with persons who are seen as experts in their field and to share this with a wider audience.

What was it that appealed to you in the last season?

The first season of the Leiden Lawcast came at exactly the right time. Being able to listen to a podcast was ideal during lockdown. A good way to learn something about subjects I would not have come across otherwise.

What are you looking forward to most?

I'm most looking forward to the discussions with our guests; I'm certain their insights will be an inspiration to our listeners.
Juli Wentholt, Master's student Encyclopedie en Filosofie van het recht.
Why did you decide to become a host of the Leiden Lawcast?

I was working for the faculty's social media team with the previous host Irem. She talked me into taking over the microphone and it just seemed like a fun thing to do. I enjoy taking on new challenges and the Leiden Lawcast is a unique challenge with a lot of variety!

What can we expect from season 2?

This season, we're not only looking to invite academics but also professionals from the corporate world as well as students. We would also like, for instance, to create a few episodes on mental health. As students, we're often having to juggle a great many things all at once, what isn't easy for everybody. Almost 75% of Dutch students are experiencing symptoms of stress or burnout. We would like to find out why and what we, as students, can do about this.

What are you looking forward to most?

Our guests! They're obviously the stars of our podcast. I can't wait to have discussions with everyone about topics they are specialised in.
Leiden Lawcast season 2
Season 2 of the Leiden Lawcast starts in March!

For more information about the Leiden Lawcast, please visit our website.