Leiden Law School
Leiden Law Cast
Welcome to Leiden Law Cast! Leiden Law School's very own podcast where the focus is on current legal issues. Suspiciously entertaining!
Leiden Law Cast is a podcast for everyone who wants to learn more about current legal issues. We present information in a more 'digestible' form, shining a light on all the latest issues and science news. Two students from our faculty present the podcast. In each episode they ask a member of the academic staff at Leiden Law School about a topical legal issue.
Leiden Law Cast is available, among other places, on Spotify. Follow us and be first to hear new episodes!
Leiden Law Cast episode 2: The role of the criminal lawyer with mr. dr. M. Lochs (in Dutch)
Leiden Law Cast episode 1: Child benefits scandal & compassion with Professor A.G. Castermans (in Dutch)
The podcast hosts: Irem and Hamza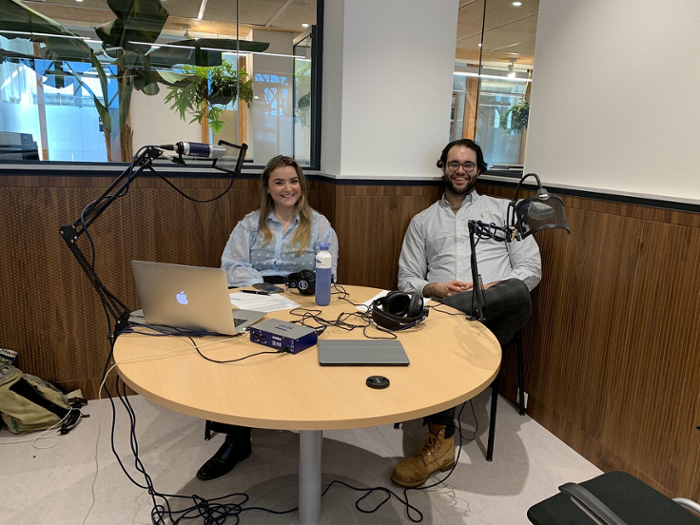 'I'm Irem Çakir. I've been studying at this great faculty for five years now. After completing my bachelor's degree, I started a master's degree in Criminal Law and am now also doing a master's in Business Law as well. As a student assistant for the faculty's social media channels, I'm busy with our socials every day. I noticed that we didn't have a podcast, so I launched the idea to start one!'
'My name is Hamza Duprée. After graduating with a bachelor's degree in Criminology and Law from Leiden University, I started a master's degree in Criminal Law. I saw Irem's request for a co-host for the podcast and knew straight away that this was something for me.'
Leiden Law Cast on social media
Follow our social media to stay up to date with Leiden Law Cast. You can find us on:
Leiden Law Cast is made by the Department of Marketing & Communication of Leiden Law School, Leiden University.