Children's book award for the math lesson of a lifetime
Do you know a children's book fanatic? According to the Griffel-jury, 'Rekenen voor je Leven' (Calculating for your life) by Science Communication Professor Ionica Smeets is highly recommended. The book was awarded a silver 'Griffel', one of the highest awards for Dutch children's literature. And that is not all.
Ionica Smeets wrote the book together with children's book author Edward van de Vendel and since last summer it has already been sold numerous times. 'The book is about a school class that rebels against their teachers about the importance of mathematics', describes Smeets. 'That is why the teachers invent a new way of teaching. One in which the children are allowed to ask math questions about their daily lives.'
'I am so proud of how we managed to make one story out of all these separate elements'
To the schools
But a children's book worthy of a Griffel is not something you can just pull out of a hat. 'We worked on it for about seven years, also to make sure that all maths material from grades seven and eight is included', says Smeets. 'This is why I went to schools and asked teachers and pupils what they thought was important to include as well.'
The core tasks of a university
In addition to being an author, Smeets is primarily an expert in the field of science communication. But according to her, that link is easily made. 'I think that a university has more obligations than just doing research. Scientific communication, such as writing a book, is one of our core tasks.'
Comics to identify with
But that is not the only link with her work: 'There are many things in the book that we know from research into science communication. For example, that comics are a good way for people to identify with certain characters. We know this from research into the communication of informed consent in hospitals.'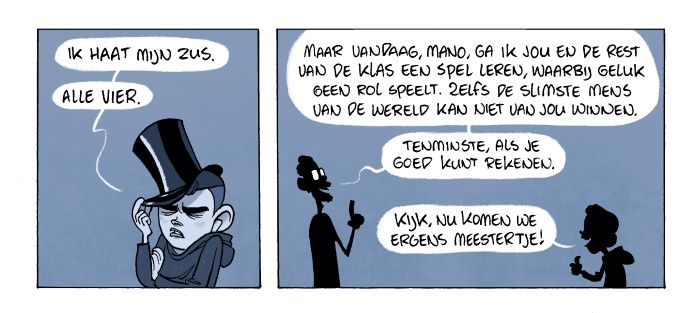 Also a bronze 'Penseel'
The authors have taken to heart the fact that comics help communicate. The book is filled with beautiful illustrations and comics. For that reason, 'Rekenen voor je Leven' was awarded yet another prize. The illustrations by Floor de Goede were awarded a bronze 'Penseel': a prize for illustrated children's books.
'It is precisely the collaboration between a scientist, a writer of children's books and an illustrator that I find so beautiful,' says an enthusiastic Smeets. 'Edward and Floor can both do something that I absolutely cannot, and I am so proud of how we managed to make one story out of all these separate elements.'
'I am assuming that I will not win'
As icing on the cake, the book now also has a chance of winning the golden Griffel later this year. Will Smeets be able to have a decent night's sleep till then? 'But of course, it is already great just to be nominated! I am just going to assume that I will not win, even though that might not be the best attitude, hahaha.'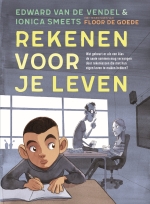 Buy Rekenen voor je Leven
Group seven of the Rover Hoepsika school rebels against their boring maths book. The class signs a contract with their teacher: this year they are going to do math with questions that are important for their lives. Everyone one question. One question every week. These new maths lessons will change everything.