Leiden Law Cast #8: Alumnus Ard van der Steur
Leiden Law Cast is a podcast made by Leiden Law School, Leiden University, for everyone who wants to learn more about current legal issues.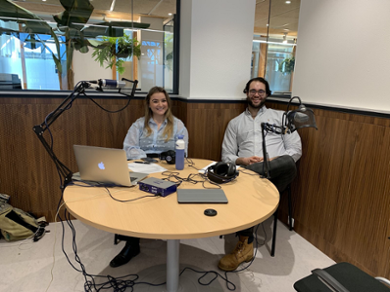 Ard van der Steur is the first guest in our series with Leiden Law School alumni. He came to our faculty in 1988 to study law and also enjoy a very active student life. During these years, he put Leiden on the world map when it comes to debating. He also developed skills such as executing complex plans and chairing meetings, but also making friends for life.
After graduating, Ard set forth on the career ladder at a rapid pace. He worked his way up to partner at the oldest (and at the time largest) law firm in the Netherlands, then moved on to become a moot court lecturer at Leiden University. He then pursued a political career (which had started in the municipal council) in the Dutch Lower House. After five years there as spokesman for justice, Ard held the office of Minister of Security and Justice for two years.
Ard talks about the immense workload that comes with being a cabinet minister (7 days a week, 18 hours a day); something even he was not used to after his years of working 80 hours a week. He emphasizes how interesting and valuable this particular ministerial position is, and encourages listeners to take it on: it's now a tradition that Leiden Law School alumni occupy this position.
After briefly discussing the multiple board positions Ard has held after being a cabinet minister, we move on to today's topic which is mediation. Mediation is the process of attempting to get parties to mutually resolve their dispute, as well as the underlying conflict, through discussions with a third party. This third party is also called the mediator. Mediation offers the major advantage that is serves to resolve the underlying, often much older, conflict between parties rather than merely settling a dispute with a court order. Research has shown that 70 to 80% of mediation attempts are successful. In addition, parties very often keep to the agreements made because they have both agreed to them, in contrast to a significant proportion of court rulings. So enough reason to assume that mediation would be a widely used tool.
But that's not the case here in the Netherlands. Mediation is a poor relation in our legal system; something that Ard attributes to the vested interests of lawyers and judges – their business model is settling disputes. If many disagreements were settled without using a professional lawyer, their financial interests would be harmed. It was only thanks to Ard's efforts that mediation was finally included as a course in a law degree programme in Utrecht.
Throughout his political career, Ard fought hard for a fixed legal basis for mediation. In doing so, he aimed to have a number of things regulated in the law. First, that the judge should give parties the opportunity to make use of mediation if they wish to do so. Second, parties who bring a case should tell the court whether they have tried mediation and if not, why not.
Third, lawyers should be obliged to tell clients about the possibility of using mediation, thus increasing awareness of this tool – something currently lacking. Fourth, parties who have agreed in a contract to use mediation in the event of a conflict, should actually use mediation, even if they are not keen to do so. After all, mediation often works very well if a good mediator asks the right questions. Fifth, there should be quality requirements for mediators. Sixth, Ard would like to create a legal basis for mediation in various areas of law that are suited to using mediation – for instance tax law.
The reason Ard has been so committed to mediation is because of the many benefits it offers. Besides compliance with the agreements mentioned above, one major advantage of mediation is that it allows the parties to discuss matters confidentially. Since nothing discussed during mediation may be used in court until it has been put on paper, the parties are more open with each other in order to really get to the heart of the problem. Many problems between parties arise precisely because the parties have conflicting standards, or have made no agreements. If a mediator asks the right questions, such ambiguities can be brought to the surface, so a solution can be sought for the underlying conflict: an essential step if parties have to continue dealing with each other for a long time. Think of divorced parents who have children, or siblings in an inheritance dispute, but also large companies that want to continue to work together in the future.
And then there are the financial benefits: often the dispute can be resolved without a huge court battle if a mediator is involved first. And even if the costs initially seem to be higher for the parties because a mediator has to be hired in addition to a lawyer, this investment more than pays for itself. The agreements that eventually arise from mediation are better adhered to than court rulings, and this saves costs later.
To his frustration, Ard has not managed to establish a firmer place for mediation in the law, and would therefore urge listeners to work on this if they are ever have a political career.
Ard closes with the traditional advice to listeners, particularly students. As the message on the wall of his student society told him: Gebruikt jolijt terwijl gij zijt in uwe jonge jaren which means – make the most of your student days, you're only young once!