Back in Brussels! A lively alumni event
After two years, it was great to be back in Brussels again. Many thanks to all alumni and students who were present during the academic discussion on the values and the future of the EU, followed by networking drinks.
A firm but friendly and at times amusing academic debate
Our host, the European Banking Federation (EBF), kicked off our event with an introduction on the practicalities they face as spokespeople of the European banks within the European Union, with, for example, the Russian war on Ukraine and the sanctions imposed. This was followed by a firm but friendly and at times amusing academic debate on the values of Europe with our esteemed panel, consisting of Prof. dr. Maurits Berger, LLM, Professor dr. mr. Armin Cuvyers and dr. Maxine David. The discussion was moderated by dr. Vera Scepanovic.
Many subjects were discussed: Poland, Hungary, Brexit and the Russian aggression but also WOMPs, WRAMPs and other conflicts and conflicting values. The discussion was followed by interesting questions from the audience, including why there is so much attention for the war in Ukraine, while many other conflicts, like Congo and Syria, get less attention and sympathy in Europe.
Lively conversations and happy faces
Afterwards, during drinks, we heard lively conversations and noticed many happy faces. We spoke to some of our alumni. Matyas Safranka (MA EU Studies, 2020): 'I joined the alumni event to catch up with friends from the master, but maybe even more important: to start to build up relationships in Brussels. Also, it is good to hear about what organizations like EBF are doing in Brussels. It was great to catch up with professors and friends, and to meet new people and have a chance to network.'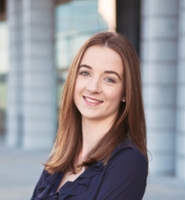 Ina Van den Bossche (MA Political Science, 2019, and MA Crisis and Security Management, 2021): 'I was looking forward to meet Leiden alumni in Brussels and to discover what Leiden alumni are up to in the city I call my home. I was able to meet many Leiden alumni from different academic backgrounds, active in different sectors and branches. Despite our diverse backgrounds, we are all connected through our Alma Mater. Therefore, this event allowed us to reminisce over our times in Leiden and to share our experiences as Leiden alumni in Brussels. I was pleasantly surprised to see how many Leiden alumni have found their way to Brussels.'
Thank you EBF!
A huge thank you to our wonderful hosts (both alumni of Leiden Law School) Wim Mijs and Niels-Peter van Doorn, CEO and COO of EBF, for providing such a well-equipped venue.

We will be back in 2023, keep an eye on the Agenda, and on our newsletters (in Dutch or English) for more events in The Netherlands and abroad!
Join our networks
Leiden University Alumni group on LinkedIn
Leiden University Mentor Network
Leiden Law School Alumni Officer Mijanou Blaauw opened the event

EBF CEO Wim Mijs (Law alumnus): 'It all comes back to studying law at Leiden'

Eduard Hovsepyan (MA Public International Law 2015), talks about his work at EBF

Followed by a lively panel discussion, moderated by Dr. Vera Scepanovic (EU Studies, Humanities)

Panel members Prof. Armin Cuyvers (EU Law, left) and Prof. Maurits Berger (Islam and the West, Humanities, right)

Panel member Dr. Maxine David (EU Studies, Humanities, left) and moderator Dr. Vera Scepanovic (right)

Answering questions from the audience