New textbook An introduction to Public International Law
On 3 March 2022, Cambridge University Press published An Introduction to Public International Law, a co-authored textbook led by Cecily Rose.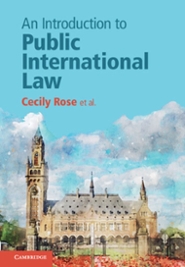 A number of current and former staff members of the Grotius Centre for International Legal Studies contributed chapters, namely Cecily Rose (Leiden University), Niels Blokker (Leiden University), Daniëlla Dam-de Jong (Leiden University), Simone van den Driest (Dutch Council of State), Robert Heinsch (Leiden University), Erik Koppe (Pels Rijcken), and Nico Schrijver (Dutch Council of State).
The textbook Published by Cambridge University Press, begins with a foreword written by Sir Christopher Greenwood. At present, this textbook represents the only English-language textbook on the general field public international law that has been authored by academics at a Dutch university. It also represents the first textbook in the general field of public international law from Leiden University since Pieter Kooijmans' Internationaal publiekrecht in vogelvucht and Nico Schrijver's Internationaal Publiekrecht als Wereldrecht.
The book is written for students working in a range of disciplines, and provides an accessible, balanced and nuanced introduction to the field of public international law. It explains the basic concepts and legal frameworks of public international law while acknowledging the field's inherent complexities and controversies. Featuring numerous carefully chosen and clearly explained examples, it demonstrates how the law applies in practice, and public international law's pervasive influence on world affairs, both past and present. Aiming not the over-emphasize any particular domestic jurisdiction or research interest, this textbook offers a global overview of public international law that will be highly valuable to any student new to the study of this very significant field.