Leiden Law Cast #5: Esther Kentin on PFAS, (micro)plastics & policy
Leiden Law Cast is a podcast made by Leiden Law School, Leiden University, for everyone who wants to learn more about current legal issues.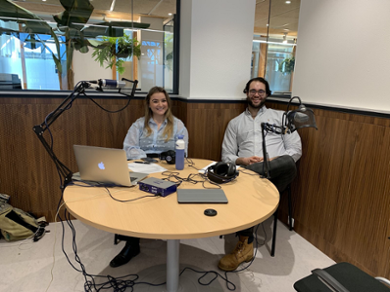 Esther started her journey in environmental law during her time at the University of Amsterdam where she studied international law with environmental law as an extension. She graduated in international environmental law and wrote her thesis on the African Bamako Convention, a treaty of African nations prohibiting the import into Africa of any hazardous waste. She has taught at various universities in international law, international environmental law specifically, and economical and investment law. At Leiden Law School she teaches the Moot Courts for both international and Dutch students. In 2016 she started the Leiden Advocacy Project in Plastic (LAPP). LAPP is a pro bono initiative in which students work on judicial cases of NGOs concerning plastic. Their clients have included the Plastic Soup Foundation and The Ocean Cleanup.
PFAS
Instead of plastic, Esther wants to talk about a different type of toxic waste today, namely PFAS. PFAS is an abbreviation for per- and polyfluoroalkyl substances and consists of over 10,000 different toxic substances. We use them because they are relatively cheap and incredibly useful. A very thin and invisible layer of PFAS makes a product water resistant and it is to this end PFAS is used in many consumer products such as mascara, frying pans and raincoats. However, they are also incredibly toxic and persistent. During the production and wear of products that contain PFAS all these toxic substances are released into our environment. The human body cannot break down these substances, and so they stay inside our bodies and only accumulate in rate. It is not yet certain to what degree PFAS is harmful to the public health, but in extreme instances in which high concentrations of PFAS were found in the drinking water in for example villages in the USA and Sweden, people became extremely ill.
As an environmental lawyer, Esther is more involved in the legal side of the problem. She explains that she is investigating how we can regulate the output and use of PFAS. The European Union makes decisions regarding toxic waste via the REACH regulation. This is a very dense and complicated regulation which assesses toxic waste per substance. They work through a myriad of checks and balances regarding risk assessment, statistical evidence etc. and from there decide how to regulate an individual substance. PFAS consists of approximately 10,000 individual substances which makes this process of regulation, taking perhaps approximately two years per case, impossible for this toxic waste group. If we decide to prohibit one substance, a new form of PFAS will simply emerge that does not contain that specific substance, but will be just as toxic. Together with Germany, Sweden and Denmark, the Netherlands is preparing a proposal for the EU that treats PFAS as a combined toxic waste group which will simplify prohibition of PFAS as a whole.
We move on to the question of whether we can impose criminal law on the companies that are responsible for environmental damage. Esther explains that this is under consideration. She is currently reading a paper that examines the liability of environmental damage. Can you be held responsible if you knowingly dump toxic waste into the environment? Unfortunately this process of holding companies responsible for environmental crimes is not yet where we want it to be, but it's winning terrain as people become more environmentally active.
We ask Esther if she thinks there is something the Netherlands could do now in order to fight the PFAS problem. She believes the Netherlands could take more initiative and prohibit PFAS as a toxic waste group nationally. The proposal that is being prepared for the EU is a good first step, but when presented to the EU it will be out of our hands and it can then still take years until the EU undertakes action. As a country, you don't have to wait for EU regulation regarding the prohibition of a toxic waste group. Therefore we would do well not to wait, but to take the initiative and act as an example for the rest of Europe. On the question of whether it can be done without too much economical suffering, she answers no. It's going to hurt. When it comes to PFAS, we'll really have to take a step back and give up a little comfort in order to truly eliminate its usage.
Finally, she wholeheartedly believes we should label products than contain PFAS, which some of her students proposed in a contribution (in Dutch) on Leiden Law Blog. It's a considerably less invasive measure than prohibition, but can be incredibly effective in raising public awareness among both consumers and companies.
As always we conclude our podcast with 'words of wisdom'. Esther's wisdom is specifically addressed to students: follow your passion. Choose the specialisation that suits you best, not the one that generates the most jobs. If you do what you like, you will find a way to get where you want to be.
Listen to this Leiden Law Cast episode (in Dutch):
You can also listen to Leiden Law Cast via these links:
More Leiden Law Cast episodes:
More information about Leiden Law Cast here.