Leiden students winner and nominee BUREN Thesis Prize for Insolvency Law
The BUREN Thesis Prize for Insolvency Law was awarded for the third time on 19 November 2020. Ilse van Vloten and Gijs de Koning, two Leiden students from the master's programme Ondernemingsrecht, presented their research at the online award ceremony and were rewarded as winner and nominee respectively.
The submissions were assessed by a jury comprised of Bob Wessels, emeritus professor International Insolvency Law at Leiden University, Dr Erik de Kloe, lecturer in Insolvency Law at Erasmus University in Rotterdam and Maarten Vermeeren, partner and lawyer specialised in restructuring and insolvency at law firm BUREN.
Directors' liability in an international context
Ilse van Vloten wrote a master's thesis entitled 'Doorbraak van bestuurdersaansprakelijkheid in faillissement naar de buitenlandse tweedegraads (rechtspersoon-)bestuurder via de Insolventieverordening 2015' on piercing the corporate veil of director's liability in insolvency cases to reach a second-degree foreign director via the European Insolvency Regulation 2015. The Dutch Supreme Court in MyGuide ruled that on the grounds of s. 11 of Book 2 of the Civil Code of the Netherlands, piercing the veil of corporate liability in relation to indirect directors does not extend to a second-degree foreign director. In her thesis, however, Van Vloten reaches the opposite conclusion. She believes, on the grounds of the European Insolvency Regulation 2015 and recent case law of the Court of Justice of the European Union, that Dutch law is applicable. Therefore she concludes that s. 11 of Book 2 of the Civil Code also extends to the second-degree foreign director. Van Vloten's thesis will be published next year by Celsus Juridische Uitgeverij.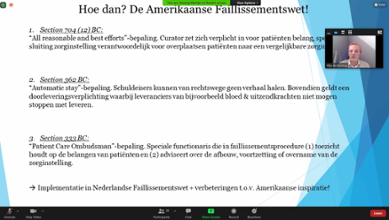 Public interest when a hospital goes bankrupt
The master's thesis written by Gijs de Koning looked at the Dutch Safety Board's recommendation to lay down by law that public interest is part of the administrator's responsibilities in hospital insolvency cases. The thesis considers insolvency cases at care institutions. It asks to what extent in such cases the Dutch legislature, when amending the Bankruptcy Act so that administrators also serve the public interest in insolvency cases, could take provisions from the US Bankruptcy Code as examples. In his thesis, De Koning examines the options to safeguard public interest (e.g. the interests of patients and prolongation of care) in the Dutch Bankruptcy Act along the lines of Chapter 11 of the US Bankruptcy Code.
Both theses were supervised by Gert-Jan Boon and Professor Reinout Vriesendorp.
More information (in Dutch) is available on the website of BUREN Legal.