Low-key opening of the academic year symbolises new beginning
The 2020-2021 academic year has begun. The new academic year may have been opened in a pared-down ceremony, but a ceremony it was nonetheless, with around 150 guests in the familiar setting of Pieterskerk and around 1,000 people watching the livestream. 'Universities will always exist, however rapidly the world might change.'
'This is without a doubt one of the strangest periods in the history of our university.' It was with these words that the Rector Magnificus, Carel Stolker, opened the academic year on 31 August 2020. And it's true, this opening of the academic year is one for the record books. Whereas hundreds of people usually attend the ceremony, this year's version was a shadow of its former self. The modest group of guests sat at a distance from one another, a large number of attendees were projected on a video wall and, without the usual guest speakers, the programme had been condensed to an hour. The ghost of coronavirus – 'that abstract foe', as Stolker called it – had made its presence felt throughout.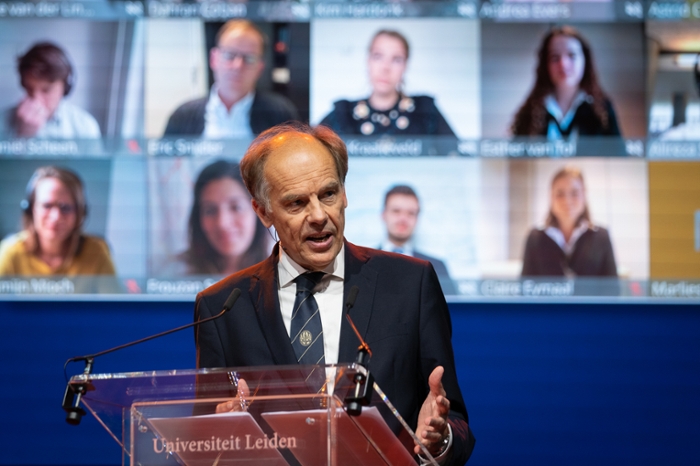 But despite everything, there was at least an opening ceremony, and that was perhaps the biggest news of all. Because although much differed from previous years, it was what stayed the same that stood out. First and foremost the decor: as every year the ceremony was held in Pieterskerk, where Leiden University was founded in 1575. And the student cortège and Sempre Crescendo student orchestra and choir were also in attendance. The resounding theme of the ceremony was most definitely the show must go on, even in difficult times. This was a symbolic new beginning after a difficult time. 'You have to fight back a bit against a virus like this,' were Stolker's upbeat words. He added, 'Universities will always exist, however rapidly the world might change.'
Meeting in person
In his speech Stolker had some words of encouragement for first-year students. They are beginning their student life in this extraordinary year, and that will take some getting used to. 'We will do all we can to teach you face to face as well as online.' He also addressed lecturers, researchers and other members of staff, many of whom have been teaching online for months already or have lost valuable research time. The increased workload is high on the Executive Board's agenda, Stolker said. And, he added, 'Meeting people face to face will continue to be at the heart of academia. This world will return.'
Meeting in person – even if only at the coffee corner – is what sets a university apart from courses that are only online, said Stolker. Because while the Googles of the world might offer cheap online alternatives in the form of programming courses, universities are all about asking questions, and these often arise in conversations with colleagues. Nowhere are your firmest beliefs shaken up more than within the walls of academia. Or as Stolker put it: 'Universities are places of organised doubt.'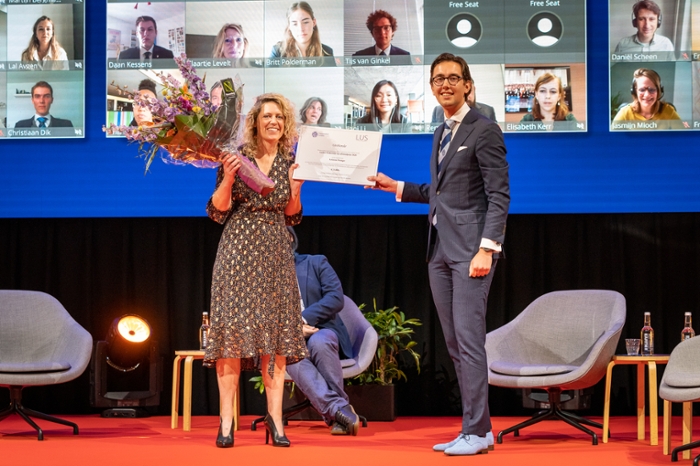 Arianna Pranger wins Teaching Prize
This year a lecturer was once again honoured who, according to the students, had provided exceptionally good teaching. The LUS Teaching Prize was renamed the 'Leiden Remote Teaching Prize' for the occasion. Dirk van Vugt, chair of the Leiden University Student Platform (LUS), referred to the exceptional situation. 'The circumstances forced lecturers to give shape to remote teaching. Each of the three lecturers nominated did this in their own, most inventive way.' A record 200 nominations were submitted, and these were whittled down to three nominees: archaeologist Aris Politopoulos, lecturer in Portuguese Nuno Atalaia and pharmacologist Arianna Pranger.
The winner was Pranger. Van Vugt praised her 'activating teaching.' 'Despite the hurdles of remote teaching, Pranger managed to inspire students with the aid of a clear structure that included knowledge clips, challenges and topical lectures about coronavirus. Her feedback loop gave students the opportunity to help shape her online teaching. She managed to keep her students engaged, and her teaching improved week by week.' The pleasantly surprised Pranger received a 25,000-euro cheque to spend on teaching. And for the first time, the runners-up also received a prize: 2,500 euros each to spend on teaching innovation.
Pranger also featured in the next item on the programme: a panel discussion about teaching in a time of corona. When asked how the past months had been for her, Pranger called the period since March when she suddenly had to start teaching online an 'ad-hoc online rollercoaster'. Other lecturers on the panel called the period 'unbelievably stressful' and 'an enormous challenge'. But there was also pride at what had been achieved. Vice-Rector Hester Bijl said that students' pass rate, credits and progress had remained steady despite all the problems, thanks of course to the lecturers.
Definitive breakthrough for online
The pandemic also represented a definitive breakthrough for teaching methods that were already in sporadic use: hybrid teaching, blended learning, flipping the classroom… 'There are plenty of bad reasons for online teaching,' said Kim Beerden, a lecturer at the Institute for History. 'Because it's possible. Because it's supposed to lower people's workload – which it doesn't. Because it's supposed to save money – when in fact it requires investment. The only good reason is: because it is the best educational method for the specific teaching material.'
In the new academic year, students will be able to come to the University every now and then for in-person teaching – the aim is to teach a quarter of classes on campus. It is partly down to the students whether this will remain possible, assessor Thomas van Klaveren warned his fellow students. 'We have to watch out; otherwise it'll be the end of offline teaching once again.' But that's easier said than done, he admitted. 'Student life is a hypersocial period in which students spend a lot of time together and often want to drink a beer together. Students may not readily admit that that's what they need, but it's what everyone feels.'
Vice-Rector Hester Bijl

Students listen to the speeches.

Vice-Rector Hester Bijl speaks to Nick Schoemaker about the University in a time of corona.

Rector Magnificus Carel Stolker gives a toast.

Nominees for the LUS Teaching Prize: Nuno Atalaia and Aris Politopoulos.

Sempre Crescendo quartet
However hard people had worked to uphold all the traditions during the ceremony, the attendees could not completely ignore the absurd reality of the moment. That became particularly clear after Stolker's closing words, when each guest was presented with a borrelbox, a box containing a wineglass and a small bottle of wine, at their seat. This made it possible to toast the University while sticking to the guidelines of the Netherlands National Institute for Public Health and the Environment (RIVM). Many a guest undoubtedly also raised a glass to better times.