Successful first webinar BSc Security Studies
Programme director of the bachelor's programme Security Studies Daan Weggemans kicked off the first webinar for prospective students this afternoon. In Kaltura Live he had an international audience of about 60 interested people.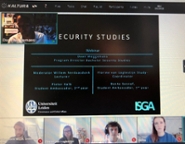 Daan was supported in this by Florine van Logtestijn, study coordinator, Pieter Kalb and Bente Sennef, student ambassadors. Willem Verdaasdonk, tutor and teacher, was the enthusiastic moderator of this webinar.
Why Security Studies?
Daan briefly talked about the content of the training and gave a mini-lecture in which he explained the difference between "security" and "safety".
Student ambassadors Pieter and Bente explained why they chose this bachelor, spoke about their lives in The Hague and Leiden, how much time they spend on their studies, and about their experiences with 'Hagenezen while going out'.
During the Q&A, Willem and Florine made sure that all questions asked in the chat were answered. The interaction with the audience was great; many questions were answered quickly or with a single complex question, it was agreed to email the answer quickly.
It was the first webinar in a wide range of webinars for almost all FGGA courses. The ISGA team was well prepared and they were successful. You can actually easily measure the success because you can see how many visitors continued to follow the webinar. In this first webinar of about an hour, more than 95% of the audience continued to listen carefully and actively participated in the chat.
Online events
Due to measures to stop the spread of the coronavirus, no events are organised at our locations at the moment. That is why we organise various online events, so that prospective students can still get acquainted with our study programmes.
BSc Security Studies

International terrorism, cybercrime, natural disasters and other issues affect the security and safety of millions each day. In Security Studies you learn to unravel security challenges by focusing on the political, historical and societal context in which they arise, as well as the effect of governance, institutions, and the media. You gain an academic perspective, and the ability to think critically about complex issues while taking all relevant factors of specific security challenges into account.
In this bachelor programme you will also study various crises and crisis management. Crises are unforeseen situaties which require impactful decisions in times of stress and chaos. How do govenments and private actors work together to prevent, response to, and recover from crises such as natural disasters and pandemics? For example, in the course Case study: Fukushima, students will look into the Fukushima nuclear disaster that happened in 2011 in Japan and in the course Vital interests we will further discuss the SARS epidemic.