Room to tighten legislation on family reunification?
In order to reduce the great flow of asylum seekers the Netherlands – and also other European countries – is faced with, the review of the entitlement to family reunification could be tightened. Under current legislation, refugees with a residence permit are – under certain conditions – eligible for family reunification.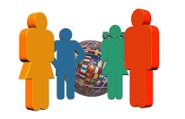 Tightening legislation
According to Professor of Immigration Law Peter Rodrigues, any room to manoeuvre in tightening the legislation comes down to the details: 'For example, you could consider raising the age limit, but the Dutch government has already explored these limits. There is little room to manoeuvre now. Family reunification takes place on the basis of an EU directive and this limits the room to tighten policy.'
Border controls and internal borders
Because of free movement within the European Union, there controls can only be conducted along the external borders. 'The European Court of Justice has ruled that in principle controls along an internal border are prohibited, and as an exception only temporarily and in the form of random controls', according to Rodrigues in Dutch newspaper the Telegraaf.