Celebrating its 1000th Graduate: Leiden University College The Hague
Leiden University College The Hague celebrates a milestone by seeing its 1000th graduate receive their diploma.
The Winter Graduation Ceremony for the Class of 2019½ took place at Wijnhaven, Leiden University Campus The Hague and saw graduates from across all six majors receive their diploma. The ceremony welcomed staff of LUC and professors from across all disciplines. It began with a warm speech given by the Dean of Leiden University College The Hague Prof. dr. Judi Mesman, and was swiftly followed by an introduction from each of the six major Conveners.
The Ceremony
Conveners across all majors gave a brief speech including a reflection on the Capstone Theses of the graduates before they crossed the stage to receive their diploma. As the graduates moved the tassel across their cap from right to left the hall filled with applause and the prospect of what the future would hold for the diverse group of generalists, primed to apply their knowledge creatively wherever their individual paths will take them.
Tom Guekmeijer, Class Representative
Applause swiftly turned to laughter as Class Representative, Tom Geukemeijer took to the stage and shared his reflections on the past three and a half years. Drawing on some of the finest moments the class of 2019½ have been accredited with, he brought smiles to the faces of staff, family members and graduates alike.
Closing Remarks
Following the brief introduction of EVOLUCIO given by Edward van der Hout, LUC Class of 2017, Prof. Dr. Judi Mesman once again took to the stage and gave the closing address of the ceremony where she implored the graduates to "always form their own judgement and to remain critical". She highlighted the importance of retaining their defined sense of individuality as they set upon a whole new world that would bring with it a new set of challenges and possibilities. Before closing her speech, she acknowledged the milestone that LUC reached on this day, seeing its 1000th graduate receive their diploma.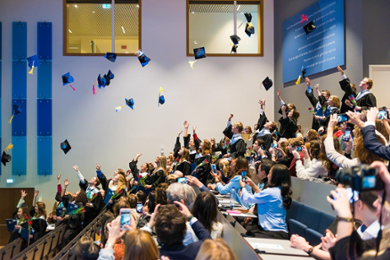 Celebrating 1000 Graduates
The milestone was celebrated by graduates, faculty members, staff and those who attended the ceremony. Seeing its 1000th graduate marks the roaring success and new heights that LUC The Hague has reached in only ten years.
Leiden University College The Hague was awarded the Top Rated Programme Seal for the first time in 2013 and since then it has continued to uphold a standard of excellence, receiving the award for the seventh consecutive time in 2020. Building on this success, 2020 see's LUC transition to claim the title of the best University College in The Netherlands. LUC's reputation for producing students adept in interdisciplinary studies with a critical and independent minded world view has grown steadily over the last decade. Since the first Class of Leiden University College The Hague graduated in 2013, alumni have moved from strength to strength across the globe and put Leiden University College firmly on the map both within and outside the world of academia.
As of recently, LUC has seen its alumni represented in different fields from the Financial Industry, Research and Data analysis, Public Policy, Legal Fields, Sustainable and Environmental Sectors, Activism, Academia and Global Health among many others. As the reputation of alumni grows so does that of Leiden University College.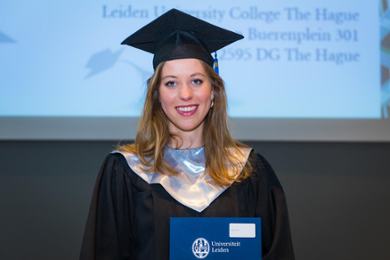 Sterre Vester, The 1000th graduate of LUC The Hague
As her graduation cap soared through the auditorium, new heights were reached as Leiden University College The Hague welcomed its 1000th graduate, Sterre Vester. Sterre majored in World Politics and her Capstone thesis was titled: 'How Do Oil Companies Influence Democratization? A Study of Shell in Nigeria (2000-2015)'.
How was your LUC experience?
"I have no idea how to wrap it up shortly, but it was definitely one of the best decisions of my life coming here. I can't compare it because I didn't go anywhere else, but I am super grateful, and I had great teachers. I can't even believe it is over right now, but yeah, I am really thankful for LUC so far.
What is next?
"I'm doing an internship right now in the Dutch Parliament, more specifically I am interning for the very liberal party the D66 in the Dutch Parliament and I am in the international office. After I am taking a gap year before I do my Masters. I am not sure what masters I will be doing, but I do know I will do at least one, and before that I am just going to orientate myself a little more"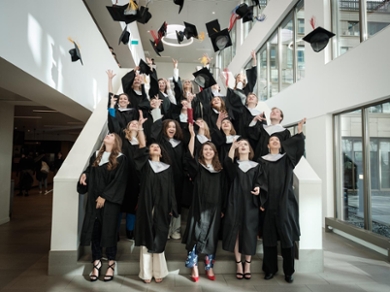 How was your last year at LUC?
"Honestly, it was amazing. I made a decision to do my Capstone one semester later which is why I am a half year now, and this was a really good decision because it was a bit more slow paced. My whole semester was spent writing my Capstone and I had more time to hang out with my friends as well so it was a really good balance."
What has LUC taught you?
"LUC has taught me honestly a lot of things, but particularly how valuable it is to keep people around you who have different opinions. Always keep reminding yourself of how grateful you are of what you have, to be here, the opportunities you get when you're here, not to be ashamed to go and do whatever you want, to try stuff out and know that LUC is always going to have your back ten years down the line. I think this is a really unique place to study."
Read More on Students and Alumni of Leiden University College The Hague Here
Looking Back: Alumni on the Rise
When Will We Realise We Are All in the Same Boat?
Following The Journey: When Will We Realise We Are All in the Same Boat?
A Change of Course: When Will We Realise We Are All in the Same Boat?