When Will We Realise We Are All in the Same Boat?
Part One: Casting off, Amsterdam
Thirty-six people from across Europe representing over twelve countries will set sail towards what can only be described as an adventure of a lifetime, and a call to action for a sustainable future. As participants of 'Sail to the COP' they will spend seven weeks sailing across the Atlantic Ocean, before reaching Chile to attend The United Nations Framework Convention on Climate Change 2019. Among the participants on board are three alumni of Leiden University College The Hague.
Part One: Casting off, Amsterdam
The participants will board the Regina Maris, and cast of from Amsterdam on October 2nd, 2019. Each participant has joined the project in order to push the issue of climate change into the public domain and demand action from policy makers to change the travel sector. On board the Regina Maris, they will run a thinktank to produce the most rounded framework for change the aviation sector has been confronted with to date.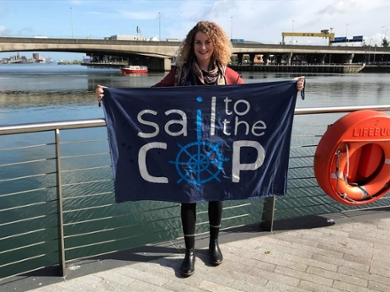 Jacinta Hamley
Jacinta Hamley, alumni of Leiden University College the Hague, was presented with the idea while writing her thesis on engaging the Irish public through communication on the approaching energy transition. "I always thought this could happen, but this is really testing the boundaries of sustainable travel. It's about combining policy change and making an impact on greater level." Upon graduating from Leiden University College, her expertise, drive and salient commitment to climate activism led her to be selected for this pioneering project of unprecedented scale. She represents the only island nation on board, which when it comes to addressing the aviation sector is a vital perspective. "Island nations face a completely different perspective and challenge. It is something that could get overlooked easily especially when you're focused on continental Europe"
After studying for three years, Jacinta was primed to transition from academics to action. "When applying all my energy into academic work and essays, the reward is personal. Knowledge building is something that I value so much, but for now I want to put my energy into something aside from just my own personal growth"
From Academics to Action
With hearts of valor and nerves of steel, the thirty-six will step on board and implore the world to take note of their adventure and call to action. Excluding the Captain Martin Duba, few of the thirty-six on board have prior sailing experience. "It is definitely about combining policy change and making an impact on greater level - In a visible way". Their journey to the United Nations Framework Convention on Climate Change is a call to people across the world to realize that their engagement is needed and that we are running out of time. "The aviation industry its-self is in-charge of its own emission targets and it is always going to put profit before planet. We as the public still want our planet to be put ahead of a growing industry". Their message is simple: taking action against climate change is not beyond the power of every individual, and 'Sail to the COP' is a beacon of light moving across the Atlantic transmitting this message to the world.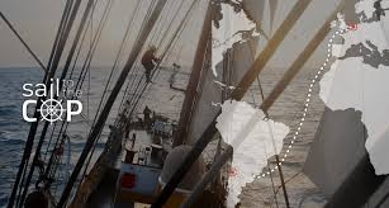 Building on a Charged Collective Response
The mission was coined over a year ago by four Dutch students. "It started as an idea with 'how can we get to the next conference sustainably?' I wasn't sure it was going to be feasible, but the interest was strong." It builds on a charged, collective response to climate change headed globally by youth leaders. They stand in solidarity aboard a vessel crested with hope, determination and resilience. This is the generation that will hold the planet in their hands and rebuild it with innovation, outspoken solutions and creative engagement. No nation, no species, no human will go unaffected by climate change, and as the Regina Maris sails towards the dawn of change that a new world demands, the statement it makes needs to be taken up by an entire generation.
The internationally orientated group represent diversity of thought. "We have molded the last half a year of our lives into this project". The participants have met as a group only once and have been working together digitally for the past six months. Never in human history has humanity been threatened by mass extinction on the scale that climate change is precipitating. It is no longer simply a question of science. Climate change is rapidly becoming a discourse on morality. How will we answer the question in thirty years to a child who looks upon the world and asks, "What did you do?". If the melody of cries for help that have thus far fallen on deaf ears continues to play out, an eternal echo will ring in the bleak silence of the future
Steering the World Towards a New Future
According to Dr. Bríd Walsh of Leiden University College, The Hague "Climate change is a problem that requires a coordinated, collective response, and that is what is currently lacking. The solutions are clear. We have the technology, that is not the problem. Renewables are also becoming cheaper and cheaper. What we need now are impactful policies."
Only time will tell how the mission of 'Sail to the COP' translates from awareness to action, but one thing is clear. Unless we change now, no human construction will heal the deep-rooted scars that we are carving into the earth. As thirty-six people lay their hearts bare to the ocean, sailing towards a brighter future, the question remains: what will the people of the world do in response? If the planet is a sinking ship without a captain at the helm, then 'Sail to the COP' is an effort to steer humanity towards a new future; but they can only do so if they do not stand alone.
Article Written by Jayne Fitzgerald.
Read Part Two Here
Following the Journey: When Will We Realise We Are All in the Same Boat?
A Change of Course: When Will We Realise We Are All in the Same Boat?